Membership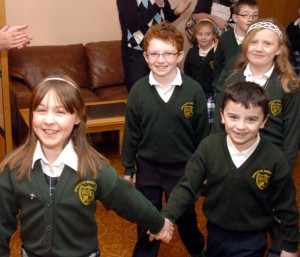 What does Gaelscoileanna Teo. do for members?
Gaelscoileanna Teo.'s principal aim for its members is to develop, facilitate and encourage Irish-medium education at primary and post primary level throughout the country.
This is achieved through:-
providing encouragement, advice and practical support to the community and to parents in the community who choose to establish an Irish-medium school
providing support to the school community in the Irish-medium sector, including teachers, principals, boards of management and parents on all aspects of the school's development
providing in-service training courses for teachers and principals tailored to the specific requirements of the Irish-medium sector
liaising with the Department of Education on behalf of the schools on various issues
campaigning on behalf of Irish-medium schools
providing support and encouragement to Irish-medium schools in the development of an Irish language school community and in the organisation of inter-school events
hosting an AGM & Educational Conference
preparation and dissemination of publicity and marketing materials
What are the advantages to having membership with Gaelscoileanna Teo.?
The membership of Gaelscoileanna Teo. is comprised of Irish-medium schools at primary and post-primary levels that have registered to join the organisation. Gaelscoileanna Teo.'s remit is to respond to the requirements of our member schools and the sector in general.  Ní neart go cur le chéile – there is strength in numbers, and the Irish-medium education sector will have a stronger voice if the schools speak as one.
Gaelscoileanna Teo. acts on the mandate set out by the member schools in the motions passed at the AGM and through requests for assistance that come from the schools. A school has to be registered for membership in order to vote at the AGM, to propose a motion and to nominate candidates to our Board of Directors.
The organisation manages a wide range of schemes and projects for Irish-medium schools. We also provide publicity materials for the schools to use.
How to register for membership
If your school wishes to register for membership, please fill in the form below and pay the appropriate fee electronically (details on form) or by cheque.