What is Immersion Education?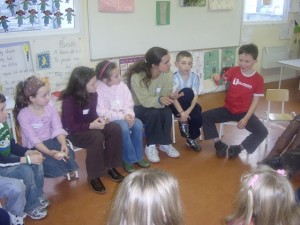 In the immersion education model pupils learn all subjects through the medium of a designated language. In Irish-medium schools, Irish is the language through which all subjects are taught and all communication is conducted.
Irish becomes the working language of the school. Pupils attending an Irish-medium school follow the standard curriculum as laid out by the Department of Education and Skills in the south or the Department of Education in the north. Through the immersion system, pupils achieve a high level of fluency in both English and Irish.
Various models of immersion education are practiced internationally. Similar models, based on international best-practice are practiced in Irish-medium schools.
In 2006 the then-Minister for Education, Mary Hanafin, announced that Irish-medium schools would no longer be allowed to practice early-immersion education, despite long-established practices and every evidence confirming that it is the most effective method of language acquisition that exists in the immersion-education system. On behalf of the Irish-medium schools and their communities, GAELSCOILEANNA TEO. undertook a nationwide campaign protesting this policy. Concurrently, two schools under An Foras Pátrúnachta undertook legal proceedings against it. As a result of an effective campaign, the commitment of the schools, and those who took legal measures), we succeeded in overturning this decision. This was a great achievement that demonstrated the effectiveness of collective action. As a result of this, the Department of Education and Skills recognises early-immersion education to be an effective and successful system. Schools are now permitted to postpone formal English language instruction until the end of term 1 of senior infants. International and national research recommends a longer period than this to reap the full benefits of the system. GAELSCOILEANNA TEO. recognises and supports schools who practice a longer immersion period. The organisation recognises the need for practical guidance from the Department for schools on getting the greatest benefit from the early-immersion system for the benefit of the children.
Why should I choose immersion education for my child?
It provides high quality education in all subjects areas, particularly English. It is proven to be the most effective way of teaching the Irish language. Various models of immersion education are practiced internationally. Similar models, based on international best-practice are practiced in gaelscoileanna.
What role do I play as a parent?
There are many ways in which parents can help, including:- If there is no gaelscoil in your area and you would like your child to have the option of attending an Irish-medium school, contact Gaelscoileanna Teo. Play an active part in your child's schooling.  Advice is available from the school's Parents' Council and staff.  It is vital to show an interest in your child's homework  as well as encouraging reading in both English and Irish.
Is it necessary for me as a parent to speak Irish?
While it is not necessary for you to be able to speak Irish it is a an advantage to your child if Irish is spoken in the home, as they can see that it is not just a school language.  Children from all linguistic and cultural backgrounds are welcome in the gaelscoileanna. Irish-language support is provided as much as possible to parents who wish to improve their skills. A positive mental attitude is fundamental to your child's development as it is for children in gaelscoileanna.
How will learning everything through Irish affect my child's English language development?
Some parents are initially fearful that Irish-medium education may have a negative impact on their child's English language development.  However, research has shown that immersion education may actually enhance English language development.  A recent review of the research on immersion programs from 1972 to 2001 concludes that "the effect of learning a second language on first language skills has been positive in all studies done" (Bournot-Trites and Tellowitz, 2002).
How does the Immersion Education model used in gaelscoileanna work?
It works by creating a socio-linguistic environment socially that emulates the natural spoken environment of the immerse language (Irish).  In this way, an effort is made, in a sensitive way, to reduce as much as possible the amount of exposure to the first language.
In much the same way as young children think that the principal owns the school and the teachers live in the school, they also think that the teaching staff only speak Irish and thus through the immersion model, the need to learn Irish to communicate is created.
Through this process, the child acquires enough spoken Irish to learn pre-literacy skills through Irish, which are then translated into English during the formal teaching later in the child's schooling.  Translating literacy skills from the minority language (Irish in Ireland) to the majority language (English in Ireland) allows for better competency of both languages than if a child were to begin the majority language and transfer to the minority language.
Will my child be able to understand the teachers?
In the early years, immersion teachers, naíscoil / naíonraí directors realise that their students will not understand everything they say.  They use body language, visuals, exaggerated facial expressions and expressive intonation to  communicate their meaning.
At pre-school level and during the early years of primary school, it is common for students to speak a mixture of English and Irish with their peers and when responding to their teacher.
As the years progress, students naturally begin to use more of the immersion language.  To draw students into using the language, teachers often use songs, useful phrases, chants and rhymes and carefully structure the day with familiar routines.
Does this type of education occur anywhere else?
It is estimated that between 60 and 75 percent of the world is bilingual, and bilingual education is a common educational approach used throughout the world in places such as: The Basque Country, Catalonia, Canada, Australia, Finland, Hungary, New Zealand, South Africa, Wales and Scotland.
More information:
More information can be found here on the benefits of immersion education/ bilingualism.
More information can be found here on research.