December 14, 2011
December 13, 2011
Gaeltacht parents and teachers have expressed their dismay at cuts to small rural schools announced in last week's budget.
A series of meetings have been held in Gaeltachtaí this week after Minister for Public Expenditure and Reform, Brendan Howlin, announced that the pupil teacher ratio would increase in schools with less than 4 teachers.
Treasa Ní Mhainín from Eagraíocht na Scoileanna Gaeltachta says that the decision could mean that many Gaeltacht areas could eventually be left with empty schools and  it could incur job losses in Gaeltacht areas.
She believes that up to 91 schools of less  than 86 pupils which are located in Gaeltacht areas are liable to suffer under the new cuts.
She says that the decision has worried the organisation and teachers with the fear being that eventually schools would have to close due to the fact they would have a low level of pupils.
Last night in Baile Bhúirne in the Muskerry Gaeltacht in Cork teachers and parents from southern Gaeltacht areas in Cork, Kerry and Waterford met to discuss the issue while another meeting took place in the Conamara Gaeltacht yesterday afternoon.
Again as happened in the case of the decision to merge the office of the Language Commisioner and the Office of the Ombudsman, prior to the publication of a review of the relevant legislation, this decision has been made irrespective of a new report yet to be published on
the viability of small schools in rural areas.
The publication date of the report has yet to be announced but it is expected to be put before the Minister for Education in mid 2012.
In the meantime, the closure of rural schools has become an issue of contention in rural areas- which was most evident with the response to the closure of Meenamore national school in Donegal.
The date of a meeting on the issue has been moved forward and will now take place in Acadamh na hOllscolaíochta Gaeilge in Gaoth Dobhair today at 4.30 p.m.
Local TD and Minister of State for Gaeltacht Affairs,  Dinny McGinley has come out saying that no decision will be made  on the closure of the school without the consultation of parents and the Board of Management. Seven pupils attend the school which recently celebrated its centenary year.
Claims that it may be more effective to close schools operating on such a small level have been resolutely rejected by organisations such as Eagraíocht na Scoileanna Gaeltachta.
"What is effective about making such a decision prior to  the publication of an official report on the matter," says Treasa Ní Mhainín.
" In the case of school closures or mergers, the capital allowance follows the child to the new school and the teacher will still have to be paid. It may happen that the only saving made be on items such as electricity costs. I don't understand this rationale as it has been shown that children in small schools are receiving such a high standard of education."
December 13, 2011
If the recommendation of the Central Expenditure Evaluation Unit to abolish COGG or to absorb it into the Department of Education and Skills is implemented, Gaeltacht and all-Irish schools will no longer have:
Primary and post-primary textbooks in Irish, other than those published by An Gúm
Online database of resources through Irish
Information booklet of all resources for teaching through Irish at primary and post-primary level
COGG information services including website and travelling Irish resource library
Irish version of Project Maths textbooks
Booklets of Irish versions of State Examinations past papers
Irish versions of 'mock exams' for Junior Cert and Leaving Cert
Wallcharts, posters, maps, globes etc in Irish
Distribution of Breacadh magazine
Intensive Irish courses for teachers teaching in Gaeltacht and all-Irish schools
Workshops for teachers
Representation on behalf of Gaeltacht and all-Irish schools with Dept of Education, NCCA and other agencies
Online forum for teachers in Irish
Online resources for Career guidance, Science and Digital media
Research on topics related to Gaeltacht education and Irish medium education
December 13, 2011
December 13, 2011
December 13, 2011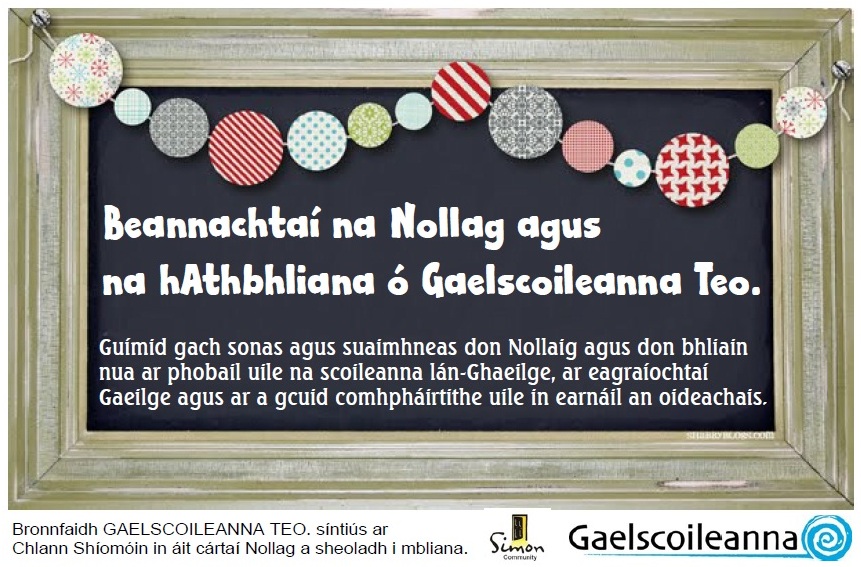 December 13, 2011
GAELSCOILEANNA TEO. has the following computer equipment to give away to any school that would like it:
2 Fujitsu Siemens PCs with Microsoft XP Pro installed (refurbished second-hand computers)
2 keyboards
2 computer mice
Black & white HP Laserjet 2200D printer
If your school is interested in any of the equipment listed above, you'd be very welcome to contact our office on 01 8535195 or by emailing oifig@gaelscoileanna.ie.
December 13, 2011
Red Pepper Productions, an independent TV Production Company based in Dublin are currently seeking participants for a brand new TG4 series called 'Innov8'.
'Innov8' is an unashamedly positive TV series in which individual or small groups of teenagers between 13 and 18 years old pitch their business ideas in order to get mentoring and support from proven entrepreneurs.
In a push to attract interested participants we would urge schools throughout the country, and Business Studies teachers in particular, to encourage students to come forward with innovative concepts or designs.  The best ones will be selected by a panel of established Irish entrepreneurs and receive mentoring from them with a view to bring their ideas to fruition over a set period of time.  This journey will be filmed and broadcast on TG4 in the Autumn of 2012.  Ultimately, we are seeking projects that will either improve local communities or encourage a new generation in the ways of business building.
The student deemed most successful by an independent jury will win a cash prize of 5,000 euro for their school and an individual prize that will be tailored to match their field of interest.  There will also be sizeable prizes for the runners-up.
Red Pepper Productions have been making series for all national broadcasters including "Ó Tholg Go Tolg" (TG4), "Back to School" (TV3) agus "Only Fools Buy Horses" (RTÉ).
For more information on 'Innov8' and how to apply please contact martin@redpepper.ie or call 087 865 1069.
December 12, 2011
Sir, – We are dismayed to hear of the abrupt decision to abolish the Modern Languages in Primary Schools Initiative announced last Tuesday and to divert its funding to the literacy and numeracy programme.
While we appreciate the concern of the Department of Education and Skills with literacy and numeracy, we believe cutting the €2.5 million being used to teach a range of modern foreign languages in more than 500 primary schools nationwide will unnecessarily restrict opportunities for Irish children. Indeed, this cut will impact on children at the age when they are most receptive to language learning.
Research has shown that the learning of modern languages promotes literacy and enhances children's reading readiness. Principals and teachers involved in the MLPSI have testified that the learning of a third language has not only increased learners' appreciation of Irish, but has also led to improved performance across all subjects.
Ireland's export-dependent economy needs increased modern language competence at all levels of education, in a century where English will not be enough. From now on, those who speak another world language in addition to English will have a significant competitive edge, within Europe and beyond.
As everyone knows, languages cannot be learned overnight, and neither can cultural awareness. Nurturing language capacity from an early age in our schools is one way to ensure that Ireland's linguistic and cultural gifts are developed for the future.
The saving involved in this cut does not justify restricting our children's potential and some way must be found to reverse this regressive decision. – Yours, etc,
GOSIA BARKER, Lecturer in English as a Foreign Language and Linguistics;
MARIE-THÉRÈSE BATARDIÈRE, Lecturer in French,
NÚRIA BORRULL, Language Teacher, Spanish;
ANGELA CHAMBERS, Prof of Applied Languages;
YVONNE CLEARY, Lecturer in Technical Communication;
JEAN CONACHER, Senior Lecturer in German;
CIARA CONSIDINE, Aonad na Gaeilge;
SÍLE de CLÉIR, Léachtóir sa Ghaeilge;
JOACHIM FISCHER, Senior Lecturer in German;
BARBARA GERAGHTY, Lecturer in Japanese;
CATHERINE JEANNEAU Language Resources;
ANN MARCUS QUINN, National Digital Learning Repository;
MARGARET MILLS HARPER, Glucksman Professor of Contemporary Writing in English;
DEIRDRE Ní LOINGSIGH, Stiúrthóir na Gaeilge, UL;
TADHG Ó hIFEARNÁIN, Léachtóir Síseartha sa Ghaeilge;
CINTA RAMBLADO, Lecturer in Spanish
NANCY SERRANO, Lecturer in Spanish.
C/o School of Languages, Literature, Culture and Communication, University of Limerick, Limerick.
Irish Times – Litir chuig an Eagarthóir
December 12, 2011
An All-Irish national school has been told it is closing less than seven weeks after Minister for the Gaeltacht Dinny McGinley told its centenary celebration he hoped it would remain open for another 100 years.
The letter to close the Meenamara school 3km from Loughanure, Co Donegal, arrived on Thursday.
Parents at a meeting with the school board on Thursday night remembered the words of local TD Mr McGinley on the night of the celebration on October 22nd.
One parent said: "He was full of praise for the school and spoke very favourably about its ethos and said he hoped it will remain open for another 100 years. And now we are told by the Department of Education that we are to close at the end of this school year."
Although it is a mixed education school, the only pupils are seven girls. It once had more than 60 pupils, including in its early days Seamus Ó Grianna, a writer widely read by learners of Irish during the 20th century.
School principal Bernie Ní Dhuibhir said: "We were devastated when we received the letter."
The Irish Times