December 12, 2017
December 8, 2017
December 7, 2017
December 7, 2017
December 6, 2017
Please follow this link for a short online survey. There are 19 questions across four pages, the survey should take about 4 minutes.
https://www.surveymonkey.com/r/WebGamesApps
Your input will inform a report that I am preparing 'on the effectiveness of Apps and Webgames in the area of education through Irish or in the area of teaching Irish'. The report is funded by and for submission to An Chomhairle um Oideachas Gaeltachta agus Gaelscolaíochta, (COGG).
Any assistance you can give by completing the survey will help inform possible measures to make Irish in the classroom more enjoyable and possibly to encourage Irish outside of school. The emergence of web games and Apps is one such opportunity to use the language while harnessing technology, giving more legitimacy, a means of seeing the language as progressive and modern. My research is looking at this opportunity, collecting and analysing data concerning how Apps and Webgames are currently used by Irish speakers, and any potential to improve on the current level of usage.
The people I am asking to complete the survey are any teachers that may use web games or Apps as tools in teaching the Irish language to pupils.
Please try and complete the survey by no later than 14th December 2017.
The output of the research will be a report back to COGG with all the results of the questionnaires including analysis, conclusions and recommendations. While the general results will be presented in the report, no personal or company details will be included with the research, it will be stated that all participation was voluntary and that all answers will be treated confidentially.
Thank you in advance for taking the time to complete this survey. I value the information you have provided. Your responses will contribute to my analysis and may assist with harnessing modern technology in the teaching of Irish in a most effective manner.
If you have any questions please forward these to survey@tapafocail.ie and I will try and respond within 24 hours.
Aidan Harney, Researcher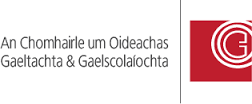 Funded by an gComhairle um Oideachas Gaeltachta agus Gaelscolaíochta, (COGG).
December 1, 2017
December 1, 2017
December 1, 2017