December 21, 2016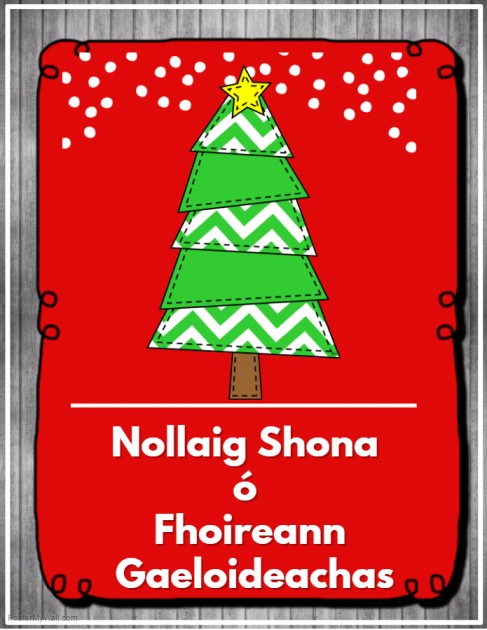 December 20, 2016
Preschool teacher required for Naíonra Montessori in Lucan, January start. Hours 1:15-4:30 Monday to Friday. Ideal candidate will have level 7 qualification in Early Childhood Education, have a good command of spoken Irish, be able to work as a team and on their own initiative, work with both Montessori and Aistear curriculums and above all, have a natural love and understanding of children and their development. Competitive terms for right candidate.
Further information from Sharon at info@montessorimatters.ie
December 19, 2016
December 19, 2016
December 16, 2016
December 15, 2016
THE fastest-growing education sector in the north has had the achievements of its schools celebrated at Stormont.
Three Gaelscoileanna (primary schools), three Naíscoileanna (nursery schools) and one Irish language post-primary were honoured.
The Irish -medium schools were among those who attained the highest level for overall effectiveness in recent inspections by the Education and Training Inspectorate.
They included Gaelscoil an Chaistil in Ballycastle, Bunscoil an tSléibhe Dhuibh in Belfast and the Irish-medium unit at St Francis' PS in Lurgan.
St Joseph's Grammar School, Donaghmore's Irish-medium unit was also honoured alongside three nursery providers, Naíscoil Chois Locha in Lurgan, Naíscoil Charn Tóchair in Maghera and Naíscoil Ghleann Darach in Crumlin.
Liam Ó Flannagáin, chief executive of Comhairle na Gaelscolaíochta, the statutory body for the promotion of Irish-medium education, said the awards were welcome recognition for the endeavours of all the schools involved.
"These awards are testament to the hard work and dedication of everyone involved with these schools, and underline the huge improvement in standards in the Irish-medium sector over the past few years," he said.
"This, together with the record numbers of parents now choosing Irish-medium education for their children, in over 80 settings across the north, means that the future is bright for the region's fastest-growing education sector."
Sonia Nic Giolla Easbuig, chair of Naíscoil Charn Tóchair said all associated with the school were delighted to receive recognition.
"The high standard achieved in Naíscoil Charn Tóchair is as a result of the hard work and dedication of the staff and parents involved with the school throughout the years," she said.
"The naíscoil opened its doors over 30 years ago and since then has been an integral part of the Carntogher community. This community has a deep respect and grá for the Irish language and culture that stands out amongst other rural communities.
"There is an Irish saying `Ár scáth a chéile a mhaireann na daoine' meaning `people survive better together' and Naíscoil Charn Tóchair and its local community illustrate this in abundance."
Education minister Peter Weir said all schools represented had demonstrated examples of the best practise that exists in many educational settings.
"These institutions, identified through the inspection process by the Education and Training Inspectorate are delivering this best practise to children and young people, including those with special educational needs, from the very important early years through to post-16 study and also outside school provision," he said.
"There are many excellent and highly dedicated individuals who work tirelessly to ensure that our children and young people receive the high quality education they deserve and I commend teachers, principals, school governors, pre-school leaders, youth workers, teaching assistants, parents and indeed the wider school community for their professionalism and commitment."
The Irish News
December 8, 2016
Gerry Adams has challenged the DUP to live up to its responsibilities in government to the Irish language.
The Sinn Féin President was speaking today at the Sinn Féin Irish language event Slógadh taking place in Richmond Barracks, Dublin.
"There are very real and justifiable concerns amongst the Irish language community relating to the absence of an Irish language strategy from the draft Programme for Government in the north," he told the audience. "The reality is that the DUP has so far not agree to its inclusion."
"Despite the continuous opposition of the leaders of Unionism, Sinn Féin have delivered considerably for the Irish language in government – through negotiations and through our departments the north. Sinn Féin Ministers have consistently improved the condition of Irish medium education. We have supported Acht na Gaeilge and have continuously called on both the Irish and British governments to fulfil the commitments made in the St. Andrew's Agreement.
"Carál Ní Chuilín brought an Irish language strategy to the Executive in the last term, but it was rejected by the DUP and UUP."
Last month Deputy First Minister Martin McGuinness accused the DUP of "hatred" towards the language after education minister Peter Weir took the decision to cease the Department of Education policy of translating official correspondence into Gaelic.
Gerry Adams said despite the oppososition they would continue to promote the language.
"In relation to the recent Programme for Government, we were successful in including a commitment to an tAcadamh, taking forward the Gaeltacht Quarter Action Plan and securing an acknowledgement of the importance of Gaeilge to our cultural heritage.
"We tried to get agreement on the inclusion of an Irish language strategy right up to the close of negotiations and we recognise the frustrations of the Irish language community regarding its absence. I share those frustrations, and it is crucially important that the voice of Pobal na Gaeilge is heard.
"We must demand that the DUP steps up to the plate, and acknowledges that Irish identity, culture and the Irish language are as equal and valid as any other cultural background and must be treated as such. That respect must be reflected in government. It also means respecting and assisting Gaelscoileanna develop and to reach their full potential as a sector that positively contributes to society and to the lives of thousands of citizens.
"There is a real need now for a collective recognition that an Gaeilge is an asset to our nation and communities, and organisations are equipped with the means of growing use the language. Unionist leaders must acknowledge that the Irish language is not a threat to anyone."
December 8, 2016
TWO new proposals to expand the Irish-language schools sector have been rejected by the education minister.
Peter Weir turned down separate bids to establish publicly-funded Irish-medium units in Derry and Kilkeel.
Since becoming minister in May, the DUP politician has now rejected five out of six `development proposals' concerning the Irish-medium sector.
Campaigners voiced concern in the summer when they pointed out that his party promised in its assembly election manifesto to "tackle the preferential treatment" of Irish-medium schooling.
Since then, Mr Weir has rejected a pre-school unit at Gaelscoil na Daroige in Derry due to other schools nearby, dismissed a bid for a part-time nursery unit at Bunscoil an Iuir in Newry, and told Gaelscoil an Lonnain it can not relocate to the former St Comghall's PS in west Belfast.
The two most recent decisions involved schools in the north west and Co Down.
Gaelscoil na mBeann in Kilkeel wanted to open a fully grant-aided Irish-medium nursery unit from September 1 this year.
A pre-school, Naíscoil na mBeann, opened in 2007 and has offered funded places since 2009. It is housed in a mobile unit on a shared site with Gaelscoil na mBeann.
Both have grown in popularity. Numbers at the primary have risen from 20 to 58.
While the nursery receives some government money, full grant-aided status would have helped it cover all staffing costs as well as being able to afford maintenance.
Rejecting the proposal, Mr Weir said "demand for pre-school places in the area is currently being met".
On the same day, a proposal for the establishment of an Irish-medium unit at St Brigid's College in Derry was turned down.
Its approval would have meant Irish-medium secondary education returning to the city after an absence of almost a decade.
In 2008, then education minister Caitríona Ruane agreed to the closure of Colaiste Bhríde. Pupil intakes at the school – also known as Meánscoil Dhoire – were small and there was no prospect of recovery.
In reaching his decision, Mr Weir said he was mindful of his statutory duties towards Irish-medium education but was "concerned at the detrimental impact such a proposal would have on existing Irish-medium provision at Gaelcholáiste Dhoire which would threaten the long term sustainability of the school".
Gaelcholáiste Dhoire in Dungiven, Co Derry opened this year to 16 pupils, but is starting to grow quickly. It is hoped it will cater for 400 young people.
St Brigid's confirmed it had received Mr Weir's decision, and said the school was determined to continue with its provision for Irish-medium education.
Mr Weir will next year make a decision on a separate proposal for a stand-alone 400-pupil Irish-language secondary school in Derry.
It is hoped the new Year 8-14 school – to be known as An Bradán Feasa – will open by September 2017. The former army base at Ebrington in the Waterside has been identified as a potential site.
Comhairle na Gaelscolaíochta said there was "clear demand from parents for a standalone IM post-primary school which will cater exclusively for those children who have attended IM primary schools".
December 7, 2016
December 7, 2016