August 30, 2013
As children all over Ireland return to school, one Irish children's entertainment company is working hard to make sure that the Irish language is one thing they can look forward to this year. Cúla Búla parties provides new options for children's parties that allows them enjoy themselves through the medium of the Irish language.
Drawing on experience in Irish education and theatre for young children, Cúla Búla Parties has developed a magical, fun-filled, Irish language experience that brings a love of the language into the home. It is due to sister company Dagda Theatre's success with practical language learning through workshops and performance that Cúla Búla's founder Clódagh Nic Gabhann recognised a need for furthering this early love of language through party entertainment, in the form of magic, puppets, face painting and balloon modeling; "The reason that I started Cúla Búla was simple. I personally have a passion for the Irish language and have seen in the past how quickly a child's attitude can change. Give them positive experiences when they are young and a love will blossom."
Cúla Búla Parties are putting the 'Cúl'-a back in the Irish language. For further information about Cúla Búla, check out their website www.culabulaparties.com, call (01) 5357595 or find them on Facebook and keep an eye out for special offers www.facebook.com/culabulaparties.
Clódagh Nic Gabhann, 0852130384, clodagh@culabulaparties.com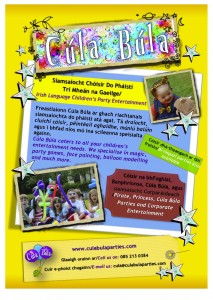 August 30, 2013
Fíbín Theatre Company brings a vast rock-face to life in a free outdoor video-mapping spectacle on September 13th & 14th in a quarry in Camus, Connemara. Stair na gCeilteach or 'History of the Celts' is the action-packed story of the Celts told through the eyes of Vercingetorix, who is celebrating his 3,000th birthday.
Stair na gCeilteach also marks Fíbín's 10th birthday. Fíbín are well-known for their highly visual style of theatre which often features masks, puppets, video projections and shadow puppetry. This is the company's first site-specific show and first time to use video-mapping. Managing Director Darach O'Tuairisg says, 'This will be the most exciting visual spectacle Connemara has ever seen. It's also an opportunity for Fíbín, not alone to celebrate its ten years, but to thank our loyal supporters and to invite people who've never seen a Fíbín show to see something new and really different."
Video-mapping is a state-of-the-art technology of mapping the contours of any surface and projecting vast moving images onto it. The surface appears to spring into life, creating exhilarating 3D imagery and optical illusions. Stair na gCeilteach is directed by Rod Goodall and will be the biggest video-mapping show in Ireland this year. The show features music performed by the award-winning Galway choir Cois Cladaigh and soloist Sarah Grealish for these two special performances.
The show is a collaboration between Fíbín and video-mapping artists Improbable Films from Madrid and forms part of the programme for Culture Connects. Culture Connects is the culture programme connecting Irish artists with European artists and marks Ireland's Presidency of the Council of the European Union. Stair na gCeilteach is supported by Ealáin na Gaeltachta, a joint venture between Údaras na Gaeltachta and The Arts Council, which promotes the development of the contemporary and traditional arts in the Gaeltacht.
Fíbín's highly visual style transcends language barriers and has performed to over 400,000 people over its ten years.
The artist Joe Boske painted the poster for 'Stair na gCeiteach'. People would know Joe's work from previous Galway Arts Festival posters going down through the years.
Stair na gCeilteach is on September 13th & 14th at 9pm at the Quarry, Furnace Road, Camus, Connemara. Tickets are free but must be reserved by contacting fibinteo@gmail.com or by calling 091 593823. For more information see www.fibin.com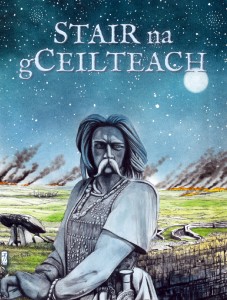 August 30, 2013
Congratulations to the staff, students, parents and supporters of the three new primary schools that opened this week. GAELSCOILEANNA TEO. wish you every success and we'll be there to support you every step of the way. The schools' patron, An Foras Pátrúnachta, has lovely photos of the first day of school on Facebook.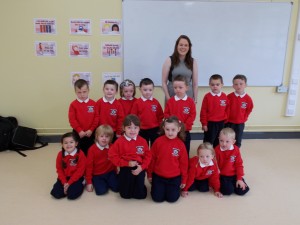 August 30, 2013
August 30, 2013
Unions say 15 new schools, 3 extensions are barely adequate to meet demand
INTO says 10,000 pupils starting school will add to overcrowding at primary level
Fifteen new schools will open across the State this autumn and three more have undergone extensions, together providing almost 7,500 permanent school places. But this is barely enough to keep up with growing demand, according to a teachers' union.
The 18 new and extended schools were built under the "rapid delivery programme", a fast-track scheme launched in 2007 to deliver schools quickly in areas experiencing rapid growth, where there is no existing school or the existing provision is unable to meet demand.
Together, the 14 primary and four postprimary schools will provide 7,488 permanent places, the Department of Education said. The pupils would benefit from "modern, energy-efficient buildings and improved learning environments", a spokeswoman said.
Overcrowding
The Irish National Teachers' Organisation argues, however, that the extra 10,000 new pupils starting school this year would cause more overcrowding in primary schools.
A record 70,000 new pupils will enter the system in 2013, said INTO general secretary Sheila Nunan. Irish primary classes were already the second-most crowded in the EU, with an average of 24.5 pupils, she said. The EU average is 20, and Luxembourg is the country with the lowest at 15.
The Irish figure was an average, and at the most crowded end of the scale Ireland had more than 100,000 children in classes of 30 pupils, she said.
The largest class sizes were found in counties Dublin, Kildare, Meath and Wicklow. Other schools with large class sizes were found in urban centres in Limerick, Cork and Waterford.
Growing population
While the new school places were very welcome, they are barely able to keep up with the rise in pupil numbers, said Peter Mullan of the INTO. "That is just keeping pace with the demand for more spaces in a growing population," he said.
All but six of the new schools are ready for use, but of these six, four are only days away from completion, the department said. Another, in Navan, is due for completion later this month and another, in Carlow, by late October. Nine of the new schools are in constituencies where a Government Minister holds a seat.
The department uses a geographical information system to assess the likely changes to the schoolgoing population in those areas, the spokeswoman said.

New Schools

Primary Schools
Carlow Educate Together NS Co Carlow
Gaelscoil Mhichíl Uí Choileáin, Clonakilty Co Cork
Carrigaline Educate Together NS Co Cork
Scoil Phádraig Naofa, Rochestown Co Cork
Portlaoise Educate Together NS Co Laois
Gaelscoil Phortlaoise Co Laois
Maryborough NS, Portlaoise Co Laois
St Francis NS, Blackrock Co Louth
St Stephen's NS, c/o St Martha's College, Johnstown Co Meath
Gaelscoil Inis Córthaidh, Enniscorthy Co Wexford
Greystones Educate Together NS Co Wicklow
Postprimary Schools
Luttrellstown Community College, Blanchardstown Dublin 15
Lusk Community College, Lusk Co Dublin
Coláiste Bhaile Chláir, Claregalway Co Galway
Coláiste na Mí, Navan Co Meath

Extensions
Gaelscoil Moshíólóg, Bóthar Charn an Bhua, Guaire Co Wexford
Scoil Choilm, Porterstown Rd, Clonsilla Dublin 15
Skerries Educate Together NS, Barnageeragh Cove, Skerries Co Dublin
www.irishtimes.com
August 29, 2013
We want you to be a part of our nationwide project: Life's Like This
On Friday 20th September we want you to film your life and tell the world what you're doing, feeling or seeing on this particular day. The footage submitted will be compiled into a unique documentary that will be broadcast later this year on RTÉ. Audiences will learn what it's like to be growing up in Ireland today.
Life's Like This is your documentary. It is about you. It's about your day. It's about things that are important to YOU. It's open to everyone between the ages of 13 and 19. Further details on Life's Like This will be available from September on www.rte.ie/trte/lifeslikethis.
Your films can be uploaded through www.rte.ie/trte/lifeslikethis from Friday, September 20th, to Tuesday, September 24th.
HOW AND WHAT TO FILM
• You can FILM ANYTHING ON ANYTHING
• You can film using your phone, camera, a webcam, iPad… you name it. If it records you can use it. Just try for the highest quality possible please!
• Sound and focus is important. We need to be able to hear and see clearly what's happening.
• You can speak in any language at all – English, Irish, Polish, French..etc
• Your film should be a maximum 2 minutes long.
• At the start of your film tell us your name and what time it is when you're filming.
• You can film anytime of the day and/or many different times of the day once it's on Friday 20th September.
GETTING YOUR FILM TO US
• Submission deadline is 8PM on Tuesday 24th September.
• Remember to get permission before you film. Only films which are accompanied by a permission form signed by both parents can be used. Every person who appears in your film needs to have a permission form signed by their parents or themselves if they are 18 or over. You can upload, post or email them all together.
• Remember you must ask people's permission to film them.
• If you have a scanner, scan the signed permission form and upload it together with your film on the tool on the right hand side.
• Include your parent's mobile / contact phone number AND the names of the people featured in your film in the MESSAGE section when uploading (very important!)
• If you don't have access to a scanner you can post a hard copy of the permission form/s to Life's Like This, Macalla Teoranta, 7 Lombard Street East, Dublin 2 but ensure to include the full name of your film clip on this form.
• When saving your film on computer CALL the clip by YOUR full name (first name and surname).
• If you cannot upload your film then send it, along with your permission form by post to: Life's Like This, Macalla Teoranta, 7 Lombard Street East, Dublin 2. It will not be possible to return films sent by post.
• A wide range of clips will be included in the documentary, unfortunately however it will not be possible to use every clip.
• Enquiries to: lifeslikethis2013@gmail.com or phone: 01 670 4012 or 01 670 4895
PLEASE REMEMBER:
IF WE DO NOT HAVE A SIGNED PERMISSION FORM FOR EVERY PERSON FEATURED IN YOUR FILM CLIP – WE WILL BE UNABLE TO INCLUDE YOUR FILM.
DOWNLOAD THE PERMISSION FORM FROM www.rte.ie/trte/lifeslikethis AND POST TO US AT: Life's Like This, Macalla Teo, 7 Lombard Street East, Dublin 2.
On Friday 20th September you are a filmmaker.
You are part of history.
Do something real and make people think. It's over to you.
MORE INFORMATION
On Friday September 20th we want you to film a maximum 2 minutes of your day. Anything goes:
• An appointment with the dentist
• Homework completed on the bus
• A haircut
• A song
• A cow milked at dawn
• A night out with friends
• A family get-together
• A sporting event
• A viral video or Facebook session
Published by Macalla Teo.
August 29, 2013
A Gaelscoil that started out in a dancehall 19 years ago moved to a permanent home in a ¤3.147 million purpose-built school in Clonakilty, Co Cork, yesterday.
There were high-fives from local priest Fr Eddie Collins as the children of Gaelscoil Mhichíl Uí Choileáin climbed the steps to the new building.
Principal Carmel Nic Airt, who started out with 17 students on September 1st, 1994, has overseen classes in a former Church of Ireland teacher's residence, a mobile home, a holiday home and a bank.
"This is the culmination of 19 years' effort. It's what I've worked for, and what I've wanted, and to think it's happened is so gratifying."
Ms Nic Airt, who collected the keys to the new school on Fernhill Road just 24 hours previously, praised the co-operation and leadership of the Department of Education.
"They are a much maligned body who really have stood behind us right from the very beginning," she said.
'Tabtop' facilities
The Gaelscoil is home to a gateway technology project which has equipped 40 students in fifth and sixth class with interactive "tabtops" linked to a TV screen that replaces the traditional whiteboard.
Part-sponsored by Intel and German electronics company Grundig, the tabtops are a cross between laptops and tablets and will phase out the need for heavy schoolbags.
"The teachers need never raise their voice again; just send a message to a particular child that might not be co-operating, with no need to disturb the class," Ms Nic Airt said.
Some 200 students took part in a march from the school's former rented premises at Clarke Street through the town centre to arrive at their new school for a formal flag-raising ceremony yesterday.
The 265 pupils and 25 staff will have the use of 12 classrooms, three autistic spectrum disorder rooms including an early intervention unit, four support rooms and a general hall as well as playground areas.
Wish list
"If somebody told you 'sit down and write a wish list for a school with everything you could want', this is that and more, because there are things here that I would never have dreamed of," Ms Nic Airt said.
www.irishtimes.com
August 29, 2013
It was a long, long, road which, in the end, culminated in a short walk that brought a town to a standstill. People lined the streets of Clonakilty , Co Cork, yesterday to cheer hundreds of pupils as they walked from a rented school to a new, state-of-the-art €3.17m home.
A gaelscoil was founded in the West Cork town in 1994 and, since then, pupils and staff had a fairly nomadic life. Yesterday represented their seventh and, hopefully, final move. Gaelscoil Mhichíl Uí Choileáin is named in honour of locally-born General Michael Collins, the state' s first finance minister.
Among the teachers is Lorna Ni hAoda who had been a pupil at the gaelscoil in 1996. "At the time, we were in a house in Emmet Square. We had three classrooms and no proper facilities. There was no hall and a tiny yard. The facilities here are amazing. It's absolutely beautiful. It' s like all our Christmases have come together," she said.
Principal Carmel Nic Airt, meanwhile, was the first teacher to launch the gaelscoil with 20pupils. "At one point, from 1999 to 2009, we were in a field with 29 prefabs. There was damp everywhere and, every weekend, we had to spray the walls to get rid of the mould, " she said. "Now we have 12 mainstream classroom, three ASD (Autistic Spectrum Disorder) units, four support units, basketball courts and a soft surface play areas for autistic pupils. If you were to write a wish list for a school this has everything and more. "
The pupils vacated the school's last leased accommodation, at The Waterfront yesterday, walking behind a garda escort provided by local gardaí Liam Ryan and Keith Prendergast. As they strode through the town, people spilled out of shops and clapped them all the way to their new home at Fernhill Rd on the western side of the town.
Parent Carmel Brennan described it as "a wonderful and historic day". She said some of the conditions pupils had endured over the years "were less than ideal". As the children entered the school, they gave 'high fives' to curate Fr Eddie Collins. They then sang the national anthem and raised their own
school flag. Relatives of General Michael Collins, including grandnephew Maurice Collins, grandniece Fidelma Collins and great grandniece Muirenn O'Sullivan, were among the guests of honour. She told pupils Collins would be very honoured to have the school named after him.
To cap the occasion, Timothy Crowley, who runs a local Michael Collins Interpretive Centre, presented the school with a small replica statue of the great man. It' s a miniature, but an exact copy of a seven-feet high sculpture, unveiled by actor Liam Neeson in the town' s Emmet Square 11 years ago.
www.irishexaminer.com
August 28, 2013
August 28, 2013