May 17, 2017
April 28, 2017
Minister also announces two additional posts in NUI Galway to strengthen the supply of Irish-medium post-primary teachers
Following on from the launch of the Department's Policy on Gaeltacht Education 2017-2022 last October, the Minister for Education and Skills, Richard Bruton T.D. today announced the commencement of the Gaeltacht School Recognition Scheme.
A circular, accompanied by an information pack, has been issued today to all primary and post-primary schools in Gaeltacht language-planning areas inviting those schools to participate in the Scheme. The Scheme will allow participating schools to seek to achieve Gaeltacht School Recognition on the basis of the implementation of specific language criteria over a five-year period and participation in the language-planning processes under the Gaeltacht Act, 2012.
A school's decision to participate in the Scheme has to be taken in consultation with the whole-school community, including the principal, teaching staff, board of management, Chief Executive of the Education and Training Board (ETB), if applicable, parent representatives and local language-planning committee. To promote a consultative collaborative approach, the Expression of Interest Form submitted by schools to the Department must be signed by the school principal, chairperson of the board of management and chairperson of the relevant language-planning committee.
Schools participating in the Scheme will be eligible to access extra supports under the terms set out in circulars relating to the Scheme. Supports to be provided in the 2017/2018 school year are set out in Circular 0033/2017 and Circular 0034/2017.
"The Government is strongly committed to strengthening Irish-medium education in the Gaeltacht and the Gaeltacht School Recognition Scheme is a major step in that process," said Minister Bruton. "In the next school year, the emphasis will be on providing professional development and support for principals and teachers in the scheme, so that they can plan how they will improve Irish-medium provision in their schools."
Schools that will participate in the scheme will receive grants for additional educational resources and a range of professional development supports in 2017/18. Further supports will be announced in future years as the Policy on Gaeltacht Education is implemented.
"The approaches and supports outlined in the circulars that I have issued today have been discussed at length with a wide range of organisations in the Gaeltacht and with groups of primary and second-level principals in Gaeltacht schools. The views of all of these individuals and groups, as well as the support of my colleague, Minister of State for Gaeltacht Affairs, Seán Kyne and his department, have been invaluable in shaping the scheme," said Minister Bruton.
"I encourage all schools in the Gaeltacht to seek to participate in the scheme and I am confident that this will contribute to supporting and promoting the future of Irish as a living language in Gaeltacht communities," said the Minister.
Full details of the Scheme can be found in Circular 0033/2017 and Circular 0034/2017 http://www.education.ie/en/The-Education-System/Policy-on-Gaeltacht-Education-2017-2022/Policy-on-Gaeltacht-Education-2017-2022.html
Posts in NUI Galway to strengthen Irish-medium teacher education
Today Minister Richard Bruton also announced a further step to strengthen the supply of Irish-medium post-primary teachers. Two new posts will be created at NUI, Galway through secondments, to expand the Professional Masters of Education (PME), at NUI, Galway.
"The Policy on Gaeltacht Education recognises that we need to improve the supply of teachers who have the specialised skills needed to teach in Irish-medium and Gaeltacht schools. The creation of these two new posts is the first steps in implementing that commitment in the Policy on Gaeltacht Education, said Minister Bruton.
"NUI Galway already has a strong track record in the provision of teacher education for Irish-medium schooling, and I am delighted to be able to support the expansion of this provision," said Minister Bruton.
It is expected that the secondment of the teachers to the MGO programme for the 2017-18 academic year will allow for an immediate and ongoing increase in the supply of Irish-medium post-primary teachers. This will be achieved through a range of measures including the upskilling of student teachers, outreach, online and blended learning opportunities, along with programme enhancement and promotion.
April 20, 2017
Údarás na Gaeltachta is organising 3 public meetings in the Language Planning Areas surrounding Galway City to provide information on the development of a Plan for the Irish Language in those areas. If you live in one of these areas, you are welcome to get involved in this initiative to revitalise the Irish language in your community.
More Information:
pleanailteanga@udaras.ie
www.udaras.ie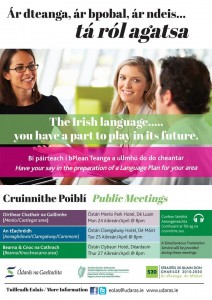 April 6, 2017
The President visted Ranelagh, to celebrate the centenary of Scoil Bhride.
Scoil Bhríde, founded in 1917, was the first gaelscoil (Irish-language school) in Ireland.
Video of the occasion here
April 4, 2017
The Young Developers Conference (YDC) is a first of its kind tech event is to launch on Saturday 13th May this year. YDC will provide teenage tech enthusiasts / developers / would-be entrepreneurs the opportunity to meet some of the most successful Irish tech entrepreneurs and people from the world of Irish fin-tech. The participants can hear about the entrepreneurs' experiences with tech project finance. This unique event will allow Ireland's finance professionals the opportunity to meet tomorrows potential tech CEOs.
The YDC concept originated with 16-year-old Dundalk Coláiste Lú transition year student Cormac Kinsella in 2016. His objective in launching YDC is to get the smartest and most talented coders talking to the financial sector. Assisting in event organising are three other 16-year-olds – (Gytis Daujotas from Clondalkin, Cormac Salman from Drogheda and Oisín Ó'Duibhir from Limerick). In addition Trinity College Dublin School of Physics and the Walton Club have also been hugely supportive in hosting and advising on this event.
Tickets for YDC can be booked online at ydc17.com for as little as 2 euro each.
Coders interested in presenting a project can forward their details to projects.ydc17.com.
In 2013, at the age of 13, Cormac and Cían Martin-Bohan were the youngest app developers in Ireland when they released their first App (Open Share) which allowed multiple social media updates from a single input. The following year he released the Focal.ie Irish / English dictionary App which has since been downloaded by c. 12,000 Irish language enthusiasts. In 2015 Cormac was invited by Ciaran Cannon TD to be one of the founding members of The Digital Youth Council of Ireland. This year Cormac & Cormac Salman have launched two Apps: Local Trade; a convenient buy & sell items App in your local area and Sence Clothing; an App for browsing branded clothes from different vendors in a single place.
March 31, 2017
March 30, 2017
March 28, 2017
Bus Éireann's on-line application system for school transport is now open for the 2017/18 school year.
The closing date is Friday 28 April 2017
Apply on-line now at www.buseireann.ie.
Answers to the most frequently-asked questions about the scheme are available on the Department of Education & Skills' website: www.education.ie.
March 24, 2017
Coláiste Samhraidh/Summer College 2017
Foghlaim an teanga san áit is Gaelaí atá ann/Learn our language in the purest Irish-speaking region
Dátaí na gcúrsaí faoi 18/Course dates for under 18's
Bróisiúr/Brochure anseo
Cúrsa 1: 4ú Meitheamh (June) – 25ú Meitheamh (June)
Cúrsa 2: 25ú Meitheamh (June) – 16ú Iúil (July)
Aoisghrúpa/Age group:  11-17 bliain d'aois/years
​Cúrsaí do dhaoine fásta/Adult courses
​Cúrsa A: 24ú Iúil (July) – 28ú Iúil (July)
Cúrsa B: 31ú Iúil (July) – 4ú Lúnasa (August)
Déan teagmháil linn lbd chun tuilleadh eolais a fháil.
Please contact us for further information.
Bígí linn agus lean lorg leithéidí Pádraig Mac Piarais, W. B. Yeats, J.M Synge, Eoin Mac Néill, Dubhghlás De Híde Lady Gregory agus eile, iad ar fad a tháinig anseo chuig Inis Meáin chun feabhas a chur ar a gcuid Gaeilge.
Join us and follow in the footsteps of the likes of Patrick Pearse, William Butler Yeats, John Millington Synge, Eoin McNeill, Douglas Hyde, Lady Gregory and many others, all of who came to Inis Meáin to improve their Irish.
​'Gaeilge Inis Meáin',
Inis Meáin/Inishmaan, 
Oileáin Árann/Aran Islands, 
Co. na Gaillimhe/Co. Galway
Fón:  087 4030478                             
R-phost:  gaeilgeinismeain@gmail.com 
March 10, 2017