February 24, 2012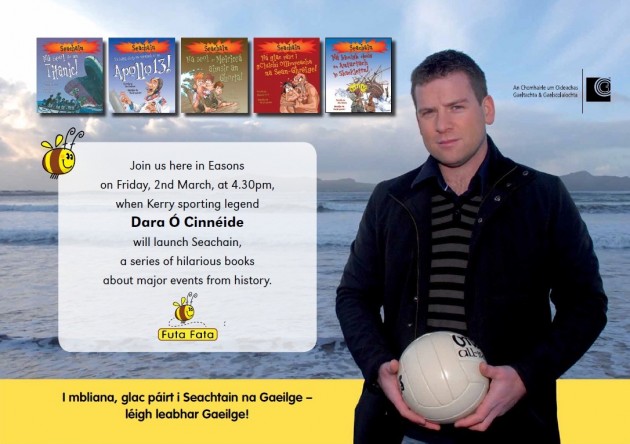 February 24, 2012
THE invoice for my eldest daughter's summer trip to the Gaeltacht arrived the other day. It is for a sizeable amount, sufficiently large to make me to gulp and wonder if this is a good investment of money, for that and a number of other reasons.
It is for a sizeable amount, sufficiently large to make me to gulp and wonder if this is a good investment of money, for that and a number of other reasons.
Firstly, here are the reasons why I'll most probably sign the required cheque (other than being told by my wife to shut up and get on with it). My daughter's Irish language capabilities were improved greatly by the experience last year on her visit to the Gaeltacht. She had just finished primary school and was heading into secondary school.
Her Irish proficiency was sufficient, but probably just about. Immersion, even if only for a three-week period, was extremely beneficial and has helped enormously in her first year in secondary school, allowing her to work during Irish class comfortably alongside those children who had completed their primary education as gaelige.
Secondly, the exposure to the Gaeltacht culture has to be good for a city girl, as well as the meeting with people from other parts of the country who have different experiences of growing up to her own. The part of Galway where she went, deep in the Gaeltacht, about an hour's drive from Galway City, is remote and beautiful and, to a city girl, must be challenging. In addition to that the discipline that is imposed, beyond the insistence that only Irish is spoken, is reassuring to any parent. (And yes, I'm not naive enough to believe that the boys and girls do not show interest in each other, but they do that anyway 52 weeks in a year and this is part of growing up, isn't it?).
The third and important reason why I like the idea of going to the Gaeltacht is that it gives her an opportunity that I didn't get to learn more about her native culture and to develop her language as part of that. I wasn't allowed as a sixth-class student to go for the month of August to Cape Clear off West Cork with my friends because I failed the entrance exam: it was deemed that I would struggle to hold a conversation and would be unable to refrain from speaking English. I thought that was the point — that it would force me to learn — but couldn't argue it well enough in Irish. It is true that I have struggled always with spoken Irish since, doing somewhat better with written Irish during exams, but that rejection may have contributed to my decision to give less priority to Irish for study and exams during secondary school, making it my one pass level subject for the Leaving Cert. (Poor teaching and a dodgy syllabus probably played their parts too). However, I would like my children to have a more positive experience of the Irish language than I did and more opportunity to embrace it, if that's what they want.
So why my doubts about this year's Gaeltacht visit, other than the cost? Well the fourth reason why I'll sign the cheque actually is linked exactly to those doubts. If I want my daughter's education to progress, so as to give her a good chance of making her own way in life as an adult, I want her to achieve good exam results. There are many other measurements of how a life can progress, and happiness be achieved, but all rational evidence suggests that educational attainment improves the chances of things working out well and the effort put into achieving that is very important as well to all aspects of life. As Irish is compulsory for the Leaving Cert I want her to be able to do as well as possible, even if my extremely limited proficiency did not necessarily harm my career progression.
But what of other languages, foreign languages that might help to assist her work opportunities in the future, especially if she has to go abroad as an adult to get work? Am I restricting her by placing such an emphasis on Irish instead of asking her to concentrate on a foreign language with similar emphasis? Is it her time well spent? Is this a fault of the Irish educational system, that we spend too much time on Irish at both primary and secondary level, to the exclusion of early immersion in other languages, or sufficient development of those languages at second level?
This came to mind earlier this week with the announcement of the creation of about 1,000 jobs at PayPal in Dundalk. The company will be looking for some foreign language proficiency among many of its employees, particularly those in so-called "customer service" roles. I suspect that many of these people will have to be imported because native Irish people will not have the sufficient language skills to be able to deal with foreign customers.
That would not be the case in many other countries where they learn a range of foreign languages and from an early age. It is noticeable, for example, how people from Scandinavian countries tend to be as fluent in English as they are in their own languages. This is often put down to learning English from a very early age. Why do we wait until children are already in secondary school to start learning other languages? The easy blame goes to the time devoted instead to Irish (and yet with such poor results, given the standards of proficiency, limited use, and sometimes levels of hostility shown towards the language).
In a strange way, however, our problem may not be Irish, but English. We are lucky that we converse in the international language of trade, that we share a common first spoken language with Britain and the US, Australia and Canada. Other countries tend to learn how to speak English so that they can improve their business and work opportunities. This may make us lazy. What's the need to speak German or Spanish for example, when anyone we want to deal with from there probably speaks English too? If we learn a bit of French it seems that it's merely to make things a bit easier when we go there on holidays.
MY daughter is learning German at secondary school. She is one of a small number of children in her year to be doing so. I asked her if she would choose German as her subject for a number of reasons, but mainly to do with future employability. Germany is a country undergoing major demographic shifts which means that it is starting to face labour shortages. There are going to be major job opportunities in the future for those who have the German language as well as educational qualifications. And given that Germany is the powerhouse of the EU to which we are bound there is no harm in adding to her options by giving her the chance to learn the language.
Some people have said to me that German is too hard a language to learn, but what foreign language isn't if you are coming to it late, as happens in our educational system? Others have told me that I need to look further east. Well no matter how hard German is I suspect that it is it is going to come more naturally than learning Mandarin. I'm not convinced yet that the idea that our children should all be learning Chinese is appropriate. When it comes to language we need to walk before we try to run.
So my suggestion: Irish remains a language that is compulsory in primary school and up to Junior Cert. It becomes optional for the Leaving Cert cycle then, as I believe Fine Gael wanted but didn't put into the programme for government. In return, we must introduce a foreign language, preferably German, as an additional subject for the primary cycle, with teachers being promised that there will be no further cuts in their number or their pay and conditions as compensation for its introduction. It means investment but wouldn't it be worth it? Let's at least have a reasoned and practical debate about our language strategy please.
IRISH EXAMINER
February 24, 2012
We had a great day out at the Munster heat of Scléip in the Firkin Crane theatre in Cork on the 22nd February. There were 6 schools with us on the day and all of the participants are due praise, the standard was very very high this year and the judges had difficult decisions to make. Below is the list of winners, who will go on to compete in the competiton final:
Modern music (solo):
Sinéad Toomey, Gaelcholáiste Luimnigh (junior)
Maitias Barker, Pobalscoil Chorca Dhuibhne (senior)
Modern music (group):
Na JJs, Gaelcholáiste Luimnigh (junior)
Na Comrádaithe, Gaelcholáiste Mhuire A.G (senior)
Creative dance (solo):
Shauna Ní Thuama, Gaelcholáiste Mhuire A.G (junior)
Áine Ni Loingsigh, Coláiste an Phiarsaigh (senior)
Creative dance (group):
Húla Húpz! Gaelcholáiste Luimnigh (junior)
Triail a hAon! Gaelcholáiste Luimnigh (senior)
Drama/mime (solo and group):
Anna & Nicole, Pobalscoil Chorca Dhuibhne (junior)
Aisteoirí na Ríochta, Gaelcholáiste Chiarraí (senior)
Miscellaneous (solo and group):
Dílseacht Gheal, Gaelcholáiste Chiarraí (junior)
Léiriú Gaelach den amhrán Addicted to Progress ó na Coronas, Pobalscoil Chorca Dhuibhne (senior)
Judges' Choice:
Na Rithimí! Gaelcholáiste Luimnigh (senior)
Congratulations to everyone who took part, we hope you really enjoyed the day and we look forward to seeing you again in the Axis on March 24th for the competition final.
February 23, 2012
Publisher Tadhg Mac Dhonnagáin has been announced as one of the keynote speakers for the forthcoming Litríocht na nÓg conference.
A comprehensive programme of events and lectures has been organised for the two-day conference which will take place in St Patrick's College Dromcondra on March 23 and 24.
The latest trends in childrens literature and publishing will be discussed with Friday's events focusing on pre-schoolers and toddlers.
Diversity within young people's literature from mythology to modern day technology will also up for discussion among Órla Ní Chuilleanáin, Iarla Mac Aodha Bhuí  agus ag Meadhbh Ní Eadhra.
Following on from this discussion, Mac Dhonnagáin will speak on the challenge of children's publishing in the Irish language on a ideological and entrepreneurial basis.
Saturday's proceedings will start of with a literary breakfast organized by Comhar which will feature Laoise Ní Chléirigh, Seán Ó Dubhchon, Órla Ní Chuilleanáin agus Ríona Nic Congáil
A lively discussion on aspects of youth culture, poetry and literature will  be discussed  on Saturday with Áine Ní Ghlinn,  Claire Marie Dunne  and Colm Mac Séalaigh.
Eilís Ní Dhuibhne and Andrew Whitson will close the conference with keynote speeches with Whitson set to discuss the role of illustratation in the digital age.
February 23, 2012
February 23, 2012
Education Minister Ruairi Quinn has been accused of robbing Peter to pay Paul after cutting budgets for all primary schools in order to fund a U-turn on teacher cuts in the most disadvantaged schools.
He bowed to pressure for a U-turn on one of the most harshly criticised Budget 2012 cutbacks by allowing over 130 disadvantaged primary schools to keep 235 extra teachers.
However, every primary school in the country will have a smaller budget this year in order to fund the €2.8m reversal.
It will mean no cuts to urban primary schools in his department's Delivering Equality of Opportunity in Schools (Deis) programme.
The change gives a full reprieve to 25 schools due to have lost at least three teachers they kept from disadvantage schemes before Deis was set up in 2005. A Department of Education review found that another 107 would have lost up to two teachers from pre-Deis schemes.
However, the axe will still fall on the remainder of the 428 posts which were due to have been cut at 33 primary and 163 second-level schools.
The minister had already signalled that any U-turn would be funded from elsewhere in the schools' budget, and he is bringing forward the phased cut in capitation funding for all 3,200 primary schools. Instead of a 2% cut this year and a similar reduction next year, a 3.5% cut is being imposed in 2012.
This will see the rate payable for running costs cut further, from €183 for every pupil to €178. It means an additional cut of €750 to the already over €1,000 being withdrawn from the annual budget of an average 150-pupil primary school.
The Irish Primary Principals Network called it a "zero-sum game", claiming another cut would leave many schools unable to pay for basics like lighting and heating. "This comes as hard-pressed families, many of them hit by job losses, are struggling to make voluntary contributions to help cover schools' running costs," said IPPN director Seán Cottrell.
A Department of Education spokesperson said 92% of the €3.08bn primary school budget goes on pay and pensions and 6% on capitation grants, so there was limited scope for alternative savings.
Mr Quinn admitted making a mistake in the budget and said he was reversing the cuts in some disadvantaged schools after analysing the likely impact. In a further concession to the most disadvantaged primary schools, they will be given additional learning support staff to help pupils in reading and maths.
The minister has also made allowances for small primary schools due to lose a teacher in September if they can show they would have increased pupil numbers. The department found that 73 schools were due to have been affected by staffing changes for schools with five teachers or less.
Only a few are likely to benefit from the widened appeal system but the Irish National Teachers' Organisation welcomed the move. It said it would have been nonsense for schools to lose a teacher this year, only to regain it next year.
IRISH EXAMINER
February 23, 2012
February 23, 2012
February 23, 2012
February 23, 2012