November 26, 2013
Nine national schools in a single choir
Invitation to a free concert
Where: Loughrea Hotel & Spa, Loughrea
When: Wednesday, 27 November at 5.30pm.
Why: Students from 9 different national schools in the East Galway area will assemble to sing the Irish songs we all know accompanied by a junior orchestra. Free in.
Info: 091 870718 or see www.lochariach.com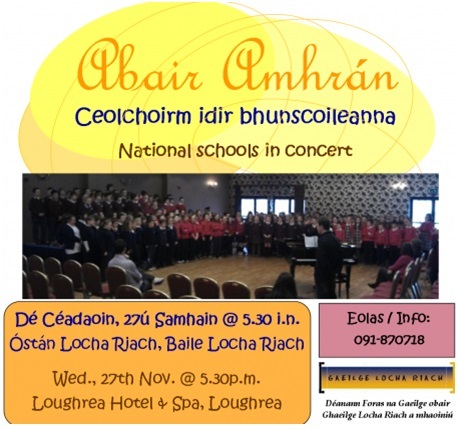 November 26, 2013
CRAFT FAIR
PREMIER CHRISTMAS FAIR
SUNDAY
01/12/2013
12.00-5.30P.M.
WONDERFUL HANDMADE CRAFTS & GIFTS
NOT TO BE MISSED
PLEASE TELL ALL.
ÁRAS CHRÓNÁIN IONAD CULTÚIR
DUBLIN 22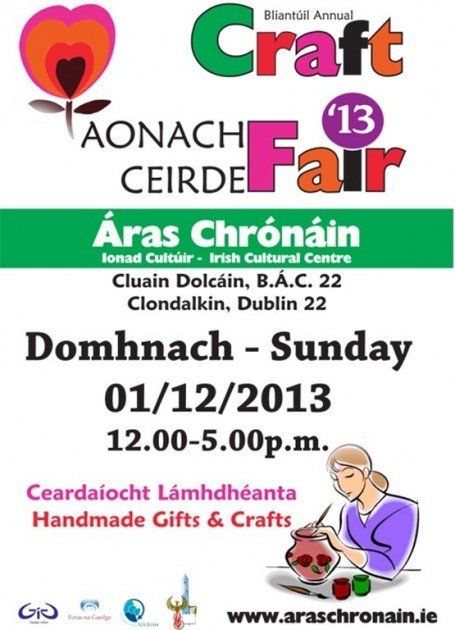 November 25, 2013
November 25, 2013
November 25, 2013
IT'S lessons in Irish – from England. After centuries in which the occupiers tried to wipe out the Irish language, that bastion of British education and culture, Oxford University, is making amends.
Oxford University Press (OUP) has launched an Irish-English visual dictionary for children from the age of eight. The aim, according to the OUP, is to support the local language revival and to assist parents, schools and children. In their publicity for the colourful dictionary the OUP says: "From the reign of Elizabeth the First through to the ravages of the Famine, Ireland's language declined and almost disappeared in the 20th Century.
"However, since 2000 there has been a growing resurgence of interest in maintaining and reviving Irish Gaelic with a growing desire to teach the next generation the language of their forebears. This dictionary is a vibrant and fresh way to help children learn Gaeilge." Each section of the new dictionary features a brief introduction and then numerous illustrations. In total, the book provides 1,500 vocabulary items in Irish and English. Children's dictionaries publisher at the OUP, Vineeta Gupta, says: "Irish people are quite rightly proud of their heritage and want to keep it alive and pass it on for future generations – and part of our OUP mission is about helping to support language learners wherever they are."
The language throws up some quirky surprises, the OUP says: "On a chilly day, you might advise your child to wrap up warm with a scairf (scarf) but be mindful you don't say scairp, because that's a scorpion." The publisher says it is interesting that there are many similarities: a cat is a cat in both languages, shoes and belts are often made of leathar, whilst a piotsa (pizza) is popular with children everywhere. "The book is the result of painstaking work with language consultants, teachers, native Irish speakers and children themselves."
But this is the first time Oxford has produced an Irish-English dictionary for children. The OUP's enthusiasm for Irish does not mean they have got everything right, however. The illustration showing the different parts of the body gives the word lámh for arm, instead of géag. Lámh is the Irish for hand, géag is the Irish for arm.
Amach ar on líne!
www.irishindependent.ie
Foilsithe ar Gaelport.com 25 Samhain 2013
Irish Independent – John Spain
November 22, 2013
November 21, 2013
November 21, 2013
November 21, 2013
November 20, 2013
Would you like to simplify your admin? Discover why Aladdin is at the heart of over 500 primary schools.
Aladdin's software doesn't just streamline your school's admin and make communication easier, it saves you time and helps you to enjoy school life even more. No wonder schools tell us they simply love Aladdin. And with our exciting new upgrade packages you'll love Aladdin even more!
Enter our prize draw at the Aladdin Schools stand at the GAELSCOILEANNA TEO. Annual Conference in the Johnstown House Hotel in Enfield, Co. Meath on Friday 22nd November 2013 for your chance to win some delicious Avoca goodies. The winner will be notified by text message at the conference by 16:00 on Friday.
Thank you to the wonderful teachers, secretaries and school principals who already use the Aladdin Schools service and we wish you and everyone involved in Irish-medium education an enjoyable time at the conference.
Experience the magic of Aladdin. Talk to us today.
www.aladdin.ie
(01) 554-7375
info@aladdin.ie