March 7, 2017
Pupils must be helped to use Irish socially, not just in the classroom
It has been something of a wait: the first education policy for the Gaeltacht (2017-2022) was recently published by the Department of Education and Skills.
We hope the policy will encourage the State to refocus its overall policy on the crisis of the Irish language in the Gaeltacht.
It provides formal criteria by which schools in the Gaeltacht can be recognised as designated Irish-medium schools.
It may also encourage the pro-active management of schools to support the Gaeltacht community and identity, if implemented with sincerity. This would be a new departure for the State's language policy.
Up to now there has been a laissez-faire vacuum in which schools operated an Irish-medium policy only if it accorded with their educational philosophy; if there were a high number of Irish-speaking pupils in the school; and if the teaching staff had the required proficiency in Irish.
For the first time, the policy differentiates between the needs of native Irish speakers and the needs of learners of Irish, ie English speakers.
This is a welcome dose of reality and an honest depiction of the many obstacles to education provision in the endangered Gaeltacht.
Two challenges
The overall vision of the new policy is ambitious but the mechanisms to implement it are ambiguous. To be effective the policy has to overcome two primary challenges.
Firstly, there is the issue of how to integrate English speakers into Irish-medium schools.
We cannot afford to send our daughter to university. What are her options?
The policy recognises that English usually dominates in interactions outside the classroom. This means that Irish speakers lack, as individuals and as a group, peer socialisation in their native language.
But the policy offers no targeted solutions to this dominant social use of English. It focuses on in-class supports for Irish, which is already the case in most Irish-medium Gaeltacht schools.
It needs to go further, and support the social use of Irish among pupils. A Gaeltacht school is surely one in which home speakers of Irish are allowed and encouraged to socialise in their first language.
Secondly, there is the challenge of how to integrate a Gaeltacht school into a Gaeltacht community.
The publication of the education policy provides a much-needed impetus to revisit the well-documented deficiencies in the 20-year strategy regarding the social vision for the Gaeltacht.
Without a cohesive and integrated alignment between schools and community, the policy will be ineffective.
Unfortunately, the articulation between the community and the schools via local language plans, backed by Údarás na Gaeltachta, is convoluted and divorced from power.
In order for such plans, which include the designated Gaeltacht school, to be effective, a lot of joined-up thinking and effective implementation is required.
A bureaucratic danger inherent in the new policy is that the numerous committees could become irrelevant talking shops which merely mask the decline of the Gaeltacht and would risk causing further cynicism in communities.
These two issues are sensitive and complex, but they need to be clarified if there is to be any hope of success.
Socialisation
Given that the Gaeltacht is now in decline, if it is to be revived by the new education policy and language plans, then two challenges above need to be addressed as follows:
Irish-language socialisation in Gaeltacht schools. Only schools where socialisation is through Irish can be meaningfully designated as successful Gaeltacht schools. If children do not use Irish among themselves it is almost impossible for individuals to speak well, and thus, for Irish to be the communal language of their peer group.
The vibrant use of Irish in the schoolyard by children far outweighs so much else. Children's social use of Irish is the best indicator of the vitality of Irish and the future resilience of the community who speak and support it.
Dynamic integration of Gaeltacht school policy with communal policy will ensure the social, educational and economic benefits of membership in the Gaeltacht community.
The vision of an integrated language and community revival is the next logical step. Sufficiently empowered Gaeltacht communities could use integrated educational and communal strategies as a mechanism for revival.
If it addresses the two major faultlines we have outlined, the new Gaeltacht education policy can provide the opportunity for supporting re-empowered communities to bring about a renewed linguistic and social identity in a revived Gaeltacht.
Conchúr Ó Giollagáin (University of the Highlands and Islands, Scotland) and Brian Ó Curnáin (Dublin Institute for Advanced Studies) recently published Beartas Úr na nGael: Dálaí na Gaeilge san Iar-Nua-Aoiseachas (A New Deal for Gaels: Irish in Postmodernity) (Leabhar Breac)
March 7, 2017
On the way to their first pregnancy scan, the parents stop by the local school. Places are scarce, and they're here to put the name of their future child down on a waiting list.
Actually, this is an apocryphal tale and usually told as a joke – schools require a name and a date of birth to enrol a child or put them on a waiting list – but it's nonetheless one that rings true for many parents.
And in some parts of Dublin, Cork and other pockets of the country such as Wexford, it bitterly illustrates the crisis in the availability of school places. It tells of a frustration that waiting lists can exclude newcomers to an area.
Around 20 per cent of schools are oversubscribed, and waiting lists are one way for them to manage numbers. But, along with a school baptism barrier which creates difficulties for the children of non-religious parents in a system where over 90 per cent of primary schools are controlled by the Roman Catholic Church, it seems that school waiting lists may be on the way out.
This is as part of a suite of changes planned by Minister for Education Richard Bruton, which will also see a ban on school admission fees and a 25 per cent cap on the number of school places that can be reserved for the children of past pupils.
The legislation, due to re-enter the Dáil this month, is due to be passed in time for the coming school year. (Separate legislation aimed at limiting or removing the baptism barrier is due to be debated later this year).
The rationale for the change is that waiting lists can discriminate against immigrants or people who have relocated within Ireland; it is especially bad for business if, for instance, the CEO of an IDA-supported company moves their family to Ireland but cannot get their children into a local school.
Meena Baskarasubramanian, who is originally from India, moved to Ireland when her child was aged three. She is now on the board of Educate Together.
"The waiting list was a big disadvantage for me in accessing schools," she says. "As a newcomer it was very discriminating. It also discriminates against people who are new to an area and may have to move for work. I'd like to see an end to putting the child's name on the list as soon as they are born; a year or two before entry would be better."
Catherine Martin is a Green Party TD for Dublin Rathdown in south Dublin, a constituency with a high number of oversubscribed schools. She is also the party's education spokeswoman.
"My child was four weeks old in 2007 when I was told it was too late to put their name down for a [secondary] school in 2019. That is wrong. There needs to be sustainable access to a school for your child near your home. Primary schools are announced in an area without a corresponding announcement for a second-level."
However, the proposed past-pupil limit is controversial. Bruton's two predecessors, Labour ministers for education Ruairí Quinn and Jan O'Sullivan, proposed similar legislation but never got it through the Dáil.
O'Sullivan's proposal to cap the number of reserved places at 10 per cent faced particular opposition.
Back in 2014, the past pupils' union of Blackrock College and Belvedere College, two prestigious fee-paying schools in Dublin, had urged its members to fight the legislation.
Opponents accused Labour of being ideologically-driven and deliberately targeting wealthier parents who might want to send their child to the fee-paying school they and perhaps even the child's grandparent went to.
It is harder now to levy the same accusation at Fine Gael's Bruton, although there is some internal opposition and concern within the party. Fianna Fáil has yet to be convinced.
Three years on the Blackrock College Past Pupil's Union declined to comment on whether it would oppose it again. However, there does seem to be less implacable opposition than before, although this may change as the Bill comes closer to law.
Until now schools have had fairly wide discretion to set their own admissions policies. Schools were unwilling to go on the record for this article but privately many are concerned that there may be legal difficulties in situations where a child's name was placed on a waiting list "in good faith" a few years ago, only now to lose their place with the abolition of lists.
However, The Irish Times understands there will be transitional provisions put in place which means that parents whose children are already on waiting lists will be afforded some level of protection, and that the appropriate time period for phasing in the new rules will be discussed and teased out.
Wexford town has five second-level schools in the vicinity and all are oversubscribed. Research carried out by Wexford Council suggests this will continue until 2021.
"Part of the challenge is that they all operate their own waiting lists and, because places are scarce, they understandably apply for every school they can, which exacerbates the situation," says local FF TD James Brown.
Although his party has not yet reached a decision, Brown is broadly supportive. He believes that a centralised school applications system could help alleviate the problem.
However, in Co Louth local FG TD Peter Fitzpatrick says schools have no choice but to operate a waiting list if they are oversubscribed.
"There is real concern at local level among parents that they will be unable to send their children to a school they have attended if a restriction is placed in legislation, and I support this concern."
Parents themselves are divided on the proposed changes. The National Parents Council (Post Primary) has not yet formulated a policy because waiting lists suit some parents more than others, although they are engaged in discussions.
Its former public relations officer Lynda O'Shea last year said that the immediate abolition of waiting lists would frustrate many parents, and that they should be phased out over a longer period.
John Curtis is general secretary of the Joint Managerial Body, which represents school management in over 400 secondary schools. It believes that the siblings and children of past pupils should be given priority where oversubscription applies.
"Only about 20 per cent of schools are oversubscribed so this is not a huge issue," he says. "Schools are community-based, so there is a case for [giving space to] the children of past pupils and siblings.
"The practice of prioritising siblings and children of past pupils arose from a concern for continuity of family experience and parental choice.
"Schools, like families, are not solely operational entities; they thrive on relationships, values, continuity, local community cohesion and loyalties built up over time and, indeed, generations.
"No matter what happens, you won't come up with a system that suits everyone where a school is oversubscribed. Neither this draft legislation, nor indeed any legislation, can address the fact that in some areas throughout the country there is a shortage of school places. We would prefer a regulatory framework, not a legislative one."
Case study: "Six weeks after my son was born I started sending in school applications"
Sadhbh Kurzawska is all too familiar with the difficulties of securing a school place for a child. Six weeks after her son was born, she started sending in school applications.
"At the time I was living in Clonskeagh [Co Dublin] which is oversubscribed. We knew we would be buying a house somewhere in the next five years, but we didn't know where, and this compounded our problem. I kept a spreadsheet of the 12 schools I applied to.
"They had different rules: in some you could only apply two years before entry, whereas in others you could put the child's name down from birth. Only about half of them actually gave me a receipt."
Kurzawska spoke to her friends and found that many of them were in the same boat. She realised that she could help alleviate the problem so she set up PrimarySchools.ie, an online national enrolment system for Ireland's primary schools which is aimed at simplifying the process for both parents and schools, and also provides an "audit trail" for the process.
They launched last September, and in that time Kurzawska says her conversations with parents suggest Dublin is the most oversubscribed area. "They say that the use of waiting lists causes problems by excluding newcomers, while schools giving preference to children from certain preschools also disadvantages them.
"They raised concerns about admissions fees, and overly intrusive data requests such as parental occupation. But the most contentious issue is religion. We need more schools and more choice.
"People who are not denominational have no choice but to send their child far away if they're in an oversubscribed area. The schools admissions Bill will go some way to addressing some but not all of the inequities."
Time for a centralised enrolment system?
Luke O'Shaughnessy * of Educate Together points out that individual schools have different enrolment policies based on diverse criteria, and there is no co-ordination between schools or patrons, with the State completely outside the process. The organisation is calling for a centralised enrolment system. How would this work?
"An independent State authority, managed independently of the school patrons, would write to all parents of school-entry age the year before their children are due to enter school to seek their preference of school and school type," he says. This would alleviate an administrative burden on schools, decrease social segregation and impose transparent criteria.
It is already being piloted in the Lucan area in Co Dublin, where five Educate Together schools have come together to develop the Lucan Common Enrolment System. O'Shaughnessy says this is working well, but that there needs to be wider changes to school admissions in Ireland.
Educate Together is particularly concerned that new Educate Together schools must give preference to children in a given geographical area, whereas religious-run schools do not have the same restriction.
March 1, 2017
"Why is it so hard to get a place in a gaelscoil? Almost 1/3 of gaelscoileanna do not have enough places to meet demand. But why this surge in popularity? And why is it so hard to find a place?"
Agallamh le Bláthnaid ní Ghréacháin, Ardfheidhmeannach Gaeloideachas, ar The Pat Kenny Show ar Newstalk ar maidin.
Interview with Bláthnaid ní Ghréacháin, CEO of Gaeloideachas, on Newstalk this morning about Irish-medium education.
Podchraoladh/Podcast anseo http://www.newstalk.com/podcasts/The_Pat_Kenny_Show/Highlights_from_The_Pat_Kenny_Show/181561/Why_is_it_so_hard_to_get_a_place_in_a_gaelscoil
February 28, 2017
Supporters of Irish language schools say the problem has nothing to do with elitism.
Brendan Shalvey put his daughter on the waiting list to attend his local Gaelscoil in Kilcock, Co Kildare, when she was just nine-months-old.
That was four years ago. And while Scoil Uí Riada will take in more than 50 junior infants next September, his daughter will not be among them.
In fact, about 80 families will not be able to get a place in the school because the school is hugely over-subscribed.
"We want an Irish language education for our daughter but we've been told there aren't enough places," says Shalvey.
"Surely it's a good thing that so many parents want to educate their child through Irish? It seems ridiculous that you can't do that in Ireland. "
In all, some 130 children are on the admission list for 2017, but there are just 56 places.
Of those, about 52 have been reserved by siblings of current pupils. That leaves just four places for new families.
Scoil Uí Riada isn't alone. Almost one-third of Irish-medium primary schools and one-quarter of secondary schools do not have enough places to meet demand.
So, what's behind the surge in popularity of the Gaelscoil?And why is it so difficult to secure a place?
Numbers attending these schools are on the rise, with waiting lists and oversubscription the case across many schools.
The benefits of bilingual education are well-documented, and are not lost on parents, many of whom are increasingly choosing this option for their children.
Bilinguals have been shown to be more flexible in their thinking and more adept at thinking about how they use language to make themselves understood.
Bilingual speakers have also been shown to be more effective at creative thinking.
Feeder schools
Many Gaelscoileanna at second-level consistently rank towards the top-end of feeder schools in the country which send the highest proportion of their students on to third-level.
Some sceptics say their rise in popularity has more to do with middle-class families seeking to secure social advantage through exclusionist policies, such as Irish-language tests.
Despite more Irish language schools in working-class areas and more parents from non-Irish backgrounds vying to send their children, do accusations of elitism hold water?
Bláthnaid Ní Ghréacháin, CEO of Gaelscoileanna Teo – a national voluntary organisation supporting the development of Irish schools at primary and post-primary – says the problem is simply an issue of demand outstripping supply.
"We're back to the age-old problem where parental demand isn't being taken into account sufficiently.
"Parents seeking Irish-medium education will always be in the minority in a community, so voices will not be as loud as Educate Together, for example," says Ní Ghréacháin.
"The oversubscription leads to disappointment on behalf of parents and creates pressure in the system. Invariably, when people are disappointed and their child does not get a place, this leads to accusations of elitism."
Ní Ghréacháin says while parents' interest is piqued by the schools appearance in league tables, parents are motivated by genuine interest for their children to be educated through our native language.
Rewrite history
"Anecdotally and from my own personal experience there is a real genuine interest on the part of parents to maybe rewrite history for themselves in terms of their experience with the Irish language they had at school.
"In a heavily oversubscribed school where siblings are catered for first and there is a lack of places, people are going to feel disappointed, excluded and discriminated against. That is the foundation for people's feeling of elitism.
"In terms of the makeup of these schools, the schools themselves reflect the communities they are in, and children come from all backgrounds, not just homes of fluent Irish speakers," she says.
"There are schools in affluent areas, of course, but also schools in disadvantaged areas, and these schools reflect different nationalities and abilities. There are many schools that are actively trying to be as accommodating to the families of the new Irish."
Ní Ghréacháin points to the newly established Gran a Mara, a second-level gaelscoil in Balbriggan, as an example of inclusivity; it has children from 15 different nationalities and is multi-denominational.
"If there are not enough places in a school, parents are going to be disappointed. Schools are forced into a situation where they have to set down enrolment criteria.
"Most schools use the sibling rule, but if it comes down to the wire some would prioritise Irish as a home language in order to protect the language ethos of the school."
Dispel the myth
Ní Ghréacháin is keen to dispel the myth that all parents who send their children to gaelscoileanna are fluent Irish speakers.
"The truth is, the amount of Irish-speaking natives outside of the Gaeltacht is absolutely minute, around 3 per cent of the population.
"The very large majority of children enrolling in Irish-medium primary schools are from English-speaking backgrounds. Children from Irish language backgrounds represent a tiny minority."
Shanley, as a parent, says the attraction of education through Irish lies in identity and language.
"I'm as far as you can get from being a nationalist, but I believe in the connection of place through language. Look at the place-names around us," he says. "It's about keeping the language alive."
He does not have a problem with entry criteria which prioritise siblings, and admits to being a bit mystified at accusations of elitism.
"Maybe it's a Dublin thing. I'm from Tralee and never came across it . . . I don't get the feeling that this is an issue here."
Caoimhín Ó hEadhra of An Foras Pátrúnachta is also keen to dispel the image of Gaelscoileanna as a passport to exclusivity for the Irish-speaking middle class.
"Gaelscoileanna reflect the communities they are in. We have many schools that have children from different nationalities, all religions and none. The idea that Gaelscoileanna are exclusive is not the case."
Entry criteria
Ó hÉadhra also says the issue of schools listing entry criteria is down to a lack of places, and that the numbers of places being reserved for children from Irish-speaking backgrounds is minuscule.
"The percentage of place being reserved for children raised through the medium of Irish is tiny, 3 per cent at most. It is not a case that across the board children are being denied places because they or their parents don't have Irish."
Ó hÉadhra says it is not in the interests of Gaelscoileanna to make their schools more niche or discourage those from non-Irish speaking backgrounds as they want to promote Gaelscoileanna.
"If we weren't supporting families who have not raised their children through Irish, it would raise serious questions about what we are doing," he adds.
'Parents are coming from Holles street putting their child's names down'
Scoil Uí Riada in Kilcock, Co Kildare, has been oversubscribed since 2013 and demand for places keeps rising.
"The school has been vastly oversubscribed in the past five years," says parents' committee member Eimear de Faoite.
She says parents have been petitioning the Department of Education and the patron for extra space, and every year they have acquiesced and given another stream but this year they said no.
The school will have to say no to about 80 families this year such is the demand for places.
"The school's admission policy is in line with that of the Department of Education where siblings are number one and then after that it's first come, first served. It has nothing to do with race or creed, there's no stipulation on that and parental fluency isn't part of the criteria.
"Parents are coming from Holles Street putting their child's names down. It has come to that due to a lack of places.
"The situation with Scoil Uí Riada is being reflected nationally. There obviously is a desperate desire for people to connect with their Irishness and with our culture.
"Three years ago the patron and the Department of Education felt the reason so many parents were sending their children to Scoil Uí Riada was due to co-education, and as a result of that they put two new schools under common enrolment so that they're both co-educational.
"However, that has not changed the rate of enrolment at Scoil Uí Riada a whit. It means parents are putting it as their first preference because they want their children to be educated through Irish .
She says she sent her children to the school despite her and her husband not being from an Irish-speaking background.
"I'm not an Irish speaker, it wasn't an opportunity for me while growing up, but my husband and I were definite we want our children to have this identity.
"I think we have become very generic as a society by saying we're all European. I think it creates a blandness amongst us. I think Gaelscoilenna offer us an opportunity to re identify ourselves in our native Irish."
February 27, 2017
Gaelscoil Inis Córthaidh threw open its doors recently to interested parents and future pupils for its annual open night. Also welcoming visitors was the Naíonra Réaltaí Geala, the Irish-medium pre-school in the school premises at Drumgoold.
The guests got to look around the impressive facility, and met pupils, staff, and principal Judy Uí Ifearnáin, who told them all about the subjects taught at the school, as well as the extra-curricular activities which contribute towards a vibrant school life.
The school has been growing steadily since it was founded in 1995, and is now a state-of the-art educational facility with a sports hall, library, special educational needs facilities, a general purpose room, and 16 spacious classrooms. Outside, there are two basketball courts, with plans to develop a playing pitch in the near future.
For further information on Gaelscoil Inis Córthaidh or Naíonra Réaltaí Geala or to enrol your child for the coming school­ year, please contact 053 ­9237422 or e­mail gaelscoilinis@gmail.com . Places are limited.
February 22, 2017
The closure after 112 years of Cistercian College, Roscrea, one of Ireland's best known boarding schools, has been blamed on a significant fall in student numbers.
The school, located at Mount St Joseph Abbey in Co Offaly, has been a top-ten performer in the annual Sunday Independent school league tables for the past two years, sending a high level of its intake to third level.
But the school has confirmed there had been a 45pc drop in enrolment in the past decade, with only nine first-year students enrolled for September of this year.
Dom Richard Purcell, Abbot of Mount St Joseph Abbey, said: "This is a very sad day for the staff, the students and their families, the many thousands of past pupils and of course the monks of Mount St Joseph Abbey. The decision to close was an extremely difficult one for the community to make."
He added: "The school has witnessed a 45pc drop in enrolment in the past 10 years, with just nine first-year students enrolled for September 2017. Clearly this is unsustainable and the school is simply no longer financially viable.
"We were sadly left with no option but to conduct what we anticipate will be a phased closure of the school over the next 16 months," Dom Richard added.
Meanwhile another well-known school, Synge Street in Dublin, is going gaelscoil – because all-Irish schools are what parents of children in the city centre want most.
Currently, Synge Street primary is an all-boys school that accepts children from second class up to sixth class.
But from September, it will introduce a new stream of pupils, starting at junior infants level, learning only through Irish.
This gaelscoil stream – or "sruth" – will run alongside, but separate from, the boys learning through English.
February 20, 2017
Students and staff of Gaelscoil de hÍde in Fermoy have closed the doors of their old building and entered their new school today.
The new school was sanctioned almost six years ago, when the Department of Education accepted that the school was not suitable for the number of children attending.
The Gaelscoil de hÍde New School Action Group said: "Some storage rooms and play areas had to be converted into classrooms. Children were not allowed run in the playground for fear of injury, toilet facilities were totally inadequate and our 410 children were cramped into a school built to cater for roughly half that amount.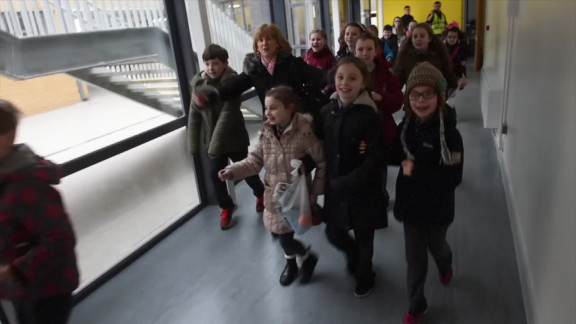 Parents of children in the school formed the New School Action Group in June 2014 after "an unwieldy, vague and error-strewn process".
In January 2016 planning permission was granted for the new 24-classroom complex on the Duntahane road in Fermoy.
Students were today accompanied by the local Fermoy Concert Band as they walked from their old school to their new building.
"It's hard to believe that we've come this far. When we started our campaign the new Gaelscoil Project in Fermoy had all but stagnated. There were lots of empty promises and misleading headlines from politicians, and so many unanswered questions," says Vivienne Dempsey, Chairperson of the New School Action Group.
Sean Mac Gearailt, Principal at Gaelscoil de hÍde, couldn't wait to show the children their new school: "We always said that we wouldn't believe the school would be ours until we turned the key in the door. Our hopes had been dashed too many times. Well now we have the keys and we're delighted."
https://www.breakingnews.ie/ireland/new-building-for-gaelscoil-de-hide-in-fermoy-after-long-wait-777655.html
February 20, 2017
Dunamase College – the new secondary school that will open in Portlaoise in September – will offer students the opportunity to learn through Irish as well as English. And it was the Irish-language element that created most of the questions at last Thursday's information night.
The meeting was told that for the first year that staff recruited in the first year "will have to be fluent in both languages."
Those present were also told that students who enter the school without having attended an Irish-speaking primary school will be able to adapt very quickly.
An Irish-speaking secondary school in Kilkenny was used as an example.
"In Kilkenny, only 40% of the students came into the school from an Irish medium primary school. And they 'caught up' very quickly," said Paul Fields who is the Laois-Offaly Eductation and Training Board (LEOTB) Director of Schools.
"My own son went from an all-English primary school to and Irish secondary school. Within a month or two months he was up to speed.
"A lot of the time in secondary school are picking up new terminology anyway."
It was also suggested that a course be run during the summer to allow the new students bridge the gap and possibly one for parents also "so they can have all the basic phrases".
A school in Kildare was also used as an example where it started with only nine students but offered 18 subjects and some of those students are now "doctors, engineers and one is back as a teacher in the school".
"Teachers will be specialists in their own subjects and fluent in Irish," added Aoife Elster, the school's principal. "For the first year, all staff will have to be fluent in Irish. Plenty of teachers out there. "Part of teacher skill set. Not negotiable."
Joe Cunningham, CEO of the LOETB, added ""I have no doubt we will get the necessary staff and the standard we require."
It was also confirmed that teachers in the new school will be referred to by their first name, such as 'Muinteoir Aoife'.
http://www.laoistoday.ie/2017/02/20/irish-question-new-secondary-school-portlaoise/
February 16, 2017
February 16, 2017