The 2017-2018 Fulbright Irish Awards application period is now open!  
August 31, 2016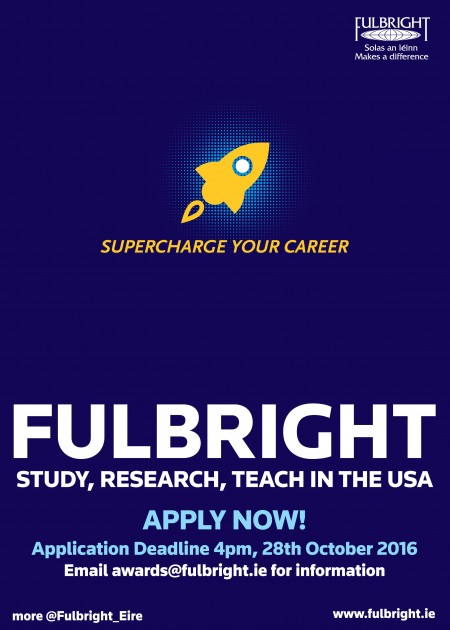 Fulbright Irish Awards provide grants for postgraduate students, researchers, lecturers and professionals across all disciplines, to study, research or teach / lecture in the USA. The application deadline is 4pm, 28th October 2016.
To find out more, visit the Fulbright Irish Awards page. Interested candidates should review the eligibility criteria & award categories on our website, then contact awards@fulbright.ie for the 2017-2018 Award application guidelines & the link to the online application.
 Further information:
Fulbright will host a Webinar giving an overview of the Awards on offer at 1pm on Tuesday 13th September 2016. To register, email emma.loughney@fulbright.ie by 3pm on 12th September
Fulbright Ireland Ambassadors are available to give on-campus support, find details for the Ambassador on your campus here
Fulbright Award Managers can be reached at awards@fulbright.ie or by phone on +353 1 660 7670 to answer queries