Bealtaine 31, 2013
A festival celebrating the heritage of St Colmcille takes place this weekend in Glencolmcille.
The festival Opening Address will be delivered at 8pm on Friday night by Dr Eithne Ni Ghallchobhair of Royal Irish Academy.
This will be followed, at 8.30pm, by one of the highlights of the weekend, a bi-lingual lecture on the links between Donegal and the Hebrides by Aidan O'Hara. The Donegal broadcaster, who spent many years with both RTÉ and the CBC (Canadian Broadcasting Corporation) has just written a new book on this rich, fascinating topic.
Dr Dr Seosamh Watson will officially launch the book 'Altlantic Gaels – Donegal Links with the Hebrides' on Saturday at 7.30pm.
There are a host of other great events taking place over the weekend, including a beginner's conversation class in Scots Gaelic taught by Andreas Wollf, a broadcaster with BBC Alba and an instructor in the Ulpan method of language teaching.
There will also be a concert of Gàidhlig and Gaeilge songs performed by Nóilín Ni Cholla; hillwalking along the famous Colmcille Turas, a tour of the Fr. McDyer Folk Village, and traditional music sessions.
Further information from Oideas Gael on oideasgael@eircom.net or 074 973 0248.
www.donegaldemocrat.ie
Foilsithe ar 30 Bealtaine 2013 / Foilsithe ar Gaelport.com 31 Bealtaine 2013
Bealtaine 31, 2013
FERMANAGH District Council is seeking to employ a dedicated Irish language officer whose role would include promoting the Irish language both within the Council and the wider community.
The Sinn Fein proposal, which was discussed at last week's Policy and Resources meeting, will be debated at next Monday night's full Council meeting. The Impartial Reporter understands that Dr. John Kremer from Queen's University met with councillors last week and outlined to them what an Irish language officer would be expected to do if employed by the Council and reminded them to be aware of current equality legislation.
It's understood that immediately after the presentation the councillors had to make a decision. Following a proposal by Sinn Fein, the councillors agreed to submit an application for funding to an outside body to recruit an Irish language officer. If successful in their bid, Fermanagh District Council will join other councils, such as Dungannon and Derry Council in employing a dedicated Irish language officer.
At Derry Council, the Irish language officer's job includes offering a complete range of Irish language services, such as the management of feedback, enquiries, comments, compliments and complaints via written correspondence, telephone and electronic communications and in person, provision of translation services, provision of corporate documentation, forms, leaflets and publications and the provision of media engagement services.
The role at Derry Council also includes facilitating the use and promotion of the language.
Asked about the Council seeking to employ an Irish Language Officer, no decision has been taken, said Fermanagh District Council Chief Executive, Mr. Brendan Hegarty.
www.impartialreporter.com
Foilsithe ar 30 Bealtaine 2013 / Foilsithe ar Gaelport.com 31Bealtaine 2013
Bealtaine 30, 2013
Is mian le Comhairle Cathrach Dhoire taighdeoir/éascaitheoir a cheapadh le tionscnamh Scéal na Gaeilge a fhorbairt. Oibreoidh an taighdeoir go dlúth le pobal na Gaeilge i gceantar Chomhairle Cathrach Dhoire le Scéal na Gaeilge sa cheantar a chur le chéile.
Déanfaidh sé/sí taighde ar stair an scéil agus labhróidh sé/sí le réimse daoine fá stair, stádas agus todhchaí na teanga anseo. Úsáidfear an taighde a dhéantar mar bhunús chun taispeántas nua léirmhínitheach a chur le chéile a bhfuil sé mar chuspóir aige cur le feasacht an phobail i gcoitinne ar an Ghaeilge i nDoire.
Sprioc d'iarratais: 21.06.13
Bealtaine 30, 2013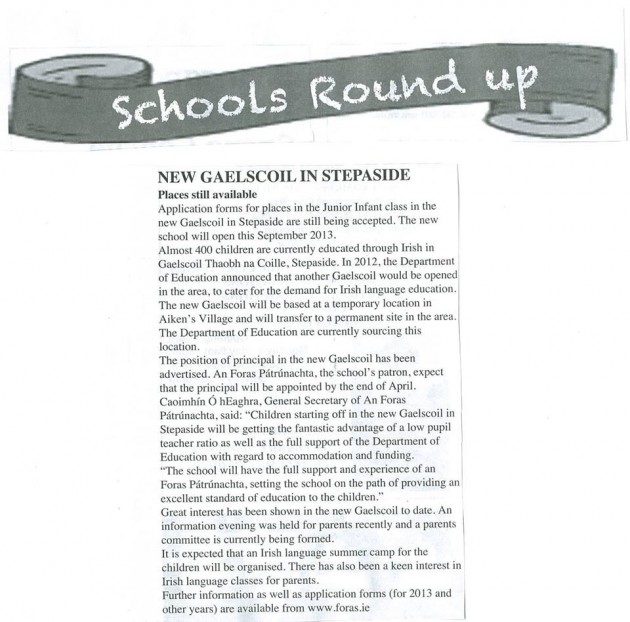 Bealtaine 30, 2013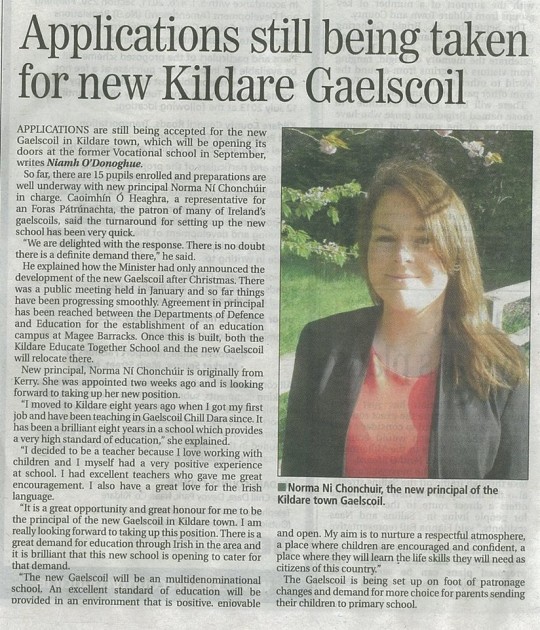 Bealtaine 30, 2013
Tá sé fógartha ag an Roinn Oideachais agus Scileanna go mbeidh bunscoil nua le hoscailt i gceantar Dumhach Trá/An Rinn i Meán Fómhair 2014. Tá feachtas ar bun le go n-aithneofaí an scoil nua mar ghaelscoil; níl aon scoil lán-Ghaeilge sa cheantar seo agus tá ró éileamh ollmhór ar na scoileanna lán-Ghaeilge sa cheantar máguaird. Tá oíche eolais eagraithe ag pátrún ionchasach na scoile nua, AN FORAS PÁTRÚNACHTA, le tacaíocht GAELSCOILEANNA TEO., eagraíocht comhordaithe na scoileanna lán-Ghaeilge, ar an 5 Meitheamh in Ionad Pobail na Rinne (Ringsend & Irishtown Community Centre) ag 7i.n. Tá an ócáid ar oscailt don phobal agus beidh sé dírithe ar bhuntáistí an oideachais lán-Ghaeilge do gach páiste.
Is iontach an deis í seo don phobal úinéireacht a ghlacadh ar áis oideachais den scoth a bheidh ag an gceantar do na glúinte páistí amach anseo, scoil bheoga, rathúil go mbeidh siad an-bhródúil aisti. Ba mhór linn bualadh leat ann má tá suim agat bheith páirteach sa bhfeachtas le scoil lán-Ghaeilge nua a éileamh don cheantar.
Tá tuilleadh eolais maidir leis an gcruinniú ar fáil ach teagmháil a dhéanamh le Clare ar 01 8535193 nó clare@gaelscoileanna.ie.
Tá tuilleadh eolais maidir le AN FORAS PÁTRÚNACHTA ar fáil ar www.foras.ie.
Bealtaine 30, 2013
A vacancy has arisen for an Education Programme Manager in Ballymun Partnership Ltd for an initial period of six months, with possible extensions to this period. Ballymun Whitehall Area Partnership works with people who are socially excluded or are at risk of becoming so, and promotes social cohesion and labour market participation with a focus on the most disadvantaged neighbourhoods.
This is achieved through a range of integrated activities in Education, Training, Job Placement, Early Childhood Services, Enterprise Support and Community and Environmental Programmes.
Applicants should submit a CV with a covering letter by 5pm on Monday 3rd June 2013 to info@ballymun.org.
Please include your availability and salary expectation.
It is intended to hold interviews the week commencing 10th June 2013.
Job Description: Education Programme Manager, Ballymun Whitehall Area Partnership
POSITION SUMMARY
This is a full time position, reporting to the Acting Chief Executive Officer, with responsibility for designing, implementing and evaluating the Education Programme for Ballymun and Whitehall in order to meet funder and company requirements. The position will initially be for a six month period, with possible extensions.
PRIMARY RESPONSIBILITIES
• To progress and develop mainstream Education provision through an area based approach in the Ballymun Whitehall Partnership area, particularly in conjunction with the Principles Network and Education Working Group Members.
• Overall management and development of the Education programme for Ballymun and Whitehall.
• Work in collaboration with major agencies in the area to facilitate and take responsibility for the training and education component of the Social Regeneration Plan for Ballymun.
• Line management, mentoring and developing the Education team.
• Represent the Partnership at education and other relevant fora.
• To be available as a resource to community members, colleagues and others working in or for the Partnership to assist, and advise, regarding their engagement with the education system and to facilitate linkages where appropriate.
• Work in collaboration with Senior Management and the Board of the Partnership.
• Support the company in any other duties as and when they arise.
Programme Management and Administration
• Continue to implement and evaluate the education programme within our annual plan, to meet forecasted targets (Action Output Indicators, Beneficiary Participation Rates and Strategic Plan Targets).
• Manage co-ordination of programmes and seek out opportunities for strengthening inter-programme learning and sharing.
• Ensure team targets, budgets and other key performance indicators set are met on a quarterly basis, in line with company and funder reporting requirements.
• Provide problem solving, support & mentoring to team members where potential issues on task completion are identified.
• Report to the Education Working Group regularly, in line with programme requirements, and liaise with the Chair of the Education Working Group on a regular basis.
HR & Personnel Management
• Manage and develop the Education Team.
• Ensure compliance with all Partnership policies.
• Undertake annual appraisals of team members.
• Delegation of tasks to the Education team, where appropriate.
Financial Administration
• Maintain project files for the Local Community Development Programme, in line with Pobal Financial guidelines.
• Indentify funding opportunities, as required, in order to deliver or enhance identified actions within the Local Community Development Programme.
• Deliver actions within funding requirements and company financial policy.
Community Relations
• Initiate, develop, and maintain cooperative relationships and networks with key agencies and funders in relation to Education actions.
• Listen to clients, volunteers, and the community in order to improve services and generate community involvement in regards to funded programmes.
• Represent Ballymun Whitehall Area Partnership with the highest standards of integrity at all times.
The candidate should posses the following skills and attributes:
• A relevant third level degree
• Significant experience in programme management
• In-depth understanding of Education and Training provision
• A knowledge and understanding of Fetac training
• Experience of operating within an area of social exclusion
• Proven ability to manage staff and work effectively with management
• The ability to plan strategically and think ahead
• Capacity to work to deadlines
• Excellent inter-personal and oral communication skills
• Understanding of financial systems/procedures
• Knowledge of local development and the changing local development landscape
• Excellent report writing skills
• Strong IT skills
The candidate will have the following qualities:
• Good Judgement
• Sensitivity to others
• Flexibility
• Be self motivated
• An ability to work with marginalised groups
• Understanding, promoting and working towards community development principles
• Independent, creative thinking and excellent problem solving skills
• Demonstrate cultural awareness and sensitivity
Other requirements for the job:
• Availability to work unsocial hours if required
• Full clean driving licence.
Bealtaine 30, 2013
As the end of the school year beckons it is time to think about planning your child's summer holidays. Fortunately, Conradh na Gaeilge may have just the answer for you.
The Conradh na Gaeilge renowned summer camps commence in July in areas including Castlegar, Lackagh, Corofin, Annaghdown, and Athenry.
Each camp incorporates the learning of Irish through sport, dance, music, art, games and other fun activities.
With more than 30 years' experience and a top class reputation to boot, Conradh na Gaeilge is a top choice when it comes to summer camps.
For more information contact the Conradh na Gaeilge Galway offices on 091-567824 or visit www.arasnangael.ie
http://www.advertiser.ie/galway
Bealtaine 30, 2013
Cuirfear tús an mhí seo chugainn leis an tsraith dianchúrsaí Gaeilge atá á eagrú ag Conradh na Gaeilge i nGaillimh.
Beidh na cúrsaí á reáchtáil in Áras na nGael, 45 Sráid Doiminic ó 11 – 27 Meitheamh le dhá rang sa tseachtain ó 7.00in – 9.30in gach oíche. Tá na ranganna dírithe ar 3
leibhéal – tosaitheoirí, bunleibhéal, agus meánleibhéal le costas ¤125 ar an gcúrsa.
Le linn an chúrsa beidh béim mhór ar chomhrá agus ar labhairt na Gaeilge. Beidh na rannpháirtithe in ann feabhas a chur ar a gcuid Gaeilge labhartha trí chleachtadh agus trí theagasc den scoth.
Maidir leis na rannpháirtithe a bhfuil Gaeilge níos líofa acu, múinfear roinnt gramadaí dóibh freisin agus beidh siad in ann tuiscint níos fearr a fháil ar scríobh na Gaeilge. Ní bheidh fadhb ar bith díriú ar ábhar nó ar riachtanais speisialta sna ranganna beaga seo freisin más gá.
Cosúil le ranganna an Chonartha trí chéile beidh an curaclam ceangailte le curaclaim Teastas Eorpach na Gaeilge.
Is féidir clárú ar www.arasnangael.ie nó teagmháil a dhéanamh le Conradh na Gaeilge, 45 Sráid Doiminic, Gaillimh, ag 091 567824 nó conradh@bradan.iol.ie
http://www.advertiser.ie/galway
Bealtaine 30, 2013
Graham Clifford visits the Kerry school teaching Mandarin to Gaelgoirs.
A minor linguistic error could get you in serious trouble
In school I wasn't exactly what you'd call 'a natural' when it came to languages. A long-suffering French teacher said that she soon realised I was Kerry's answer to René from 'Allo, 'Allo!
An Irish teacher described my sentence structure as "seafóid" or nonsense and after three years of studying German all I could say with certainty was "Ich bin irisch und Ich spreche nicht gut deutsch!"
So as I approach the majestic driveway leading to Coláiste Íde just outside Dingle, the nerves are jangling. Palm trees pass me by on either side as I make my way through woodlands before reaching the main building.
I'm here to learn my first few words of Chinese — but through Irish. I passed my comfort zone some miles back by Inch beach.
I remember reading once that scholars in Kerry's hedge schools learned to speak and write perfect Latin through Gaelic and I try to invoke their spirits as I walk towards the doors of this idyllic boarding school for girls with its 127 students.
The West Kerry Gaeltacht wouldn't be the obvious setting for Mandarin Chinese classes but in a cosy classroom I meet 20 young ladies who have been familiarising themselves with the language of the mighty land to the East.
I get a bilingual welcome (in Chinese and Irish) but when asked if I'd like to be spoken to "as Gaeilge nó as Béarla" I opt for the latter.
I'm hit with a dart of guilt similar to that experienced when opting for English when given the option at a cash machine.
The teacher, Joan Lyne of Annascaul, reassures me that Chinese is not too difficult to learn and that I'll pick up a "cúpla focal".
"There's no grammar, it all sounds mad, it's interesting and fun. There are only four different tones."
The girls are ready for action with copy books opened in front of them featuring complicated-looking Chinese characters or letters. Someone produces chop sticks. I'm interrupting their study-time and that's the real reason for the buzz in the room!
This area isn't exactly a Chinese stronghold, explains Joan. "There used to be a Chinese family living in Dingle. I was going to ask that family to come in to help the girls learn the language but they moved just before we started the course."
"So have any of you used Chinese outside the classroom?" I ask the students.
A host of replies come back simultaneously. "I went in to a Chinese restaurant to say hi in Mandarin but it was an Irish person working there," says one.
Another, who displayed similar bravery, added: "We met a Chinese lady and were able to introduce ourselves in the language. We also tried to order food but that didn't go so well. The woman was talking so fast and that went right over our head. But in return we taught her how to say 'dia dhuit'."
I'm starting to think I could get the hang of this. Instead of pointing at number 22 in my local takeaway, I could confidently stroll in, exchange pleasantries with the staff and then request my favourite dish.
But then I discover that a minor linguistic error could get you in serious trouble with the mammy.
Joan explains: "There are four different ways of saying the word 'ma'. Saying it at the end of a sentence can turn it into a question; 'ma' can also mean your mother … depending on the tone that's over the letter 'a'. If you use one of the dipping tones, 'ma' can mean ' horse' so if you get it totally wrong you could easily call your mother a horse!"
Mollaí Nic Suibhne from Dingle has developed a grá for the language and she gives me some background to how it's written.
"There are two ways of writing. There's the original way with the brush stroke, and then there's the way of writing it with European letters — then it's written as it sounds; it's called Pinyin."
I nod as though I clearly understand — I was always a half-decent actor.
Using an interactive teaching package designed by the Chinese institute at UCD, Joan informs the fifth-year students here about Chinese culture as well as about the language.
She's added some of her own touches, too, from her year spent studying Chinese in UCC. These include an 'amhrán náisiúnta', or national song, which the Chinese play in place of their national anthem at sporting events such as the Olympics.
In the surreal setting of a Gaelscoil on Dingle Bay on a wind-swept evening, I'm serenaded in Chinese by 20 young ladies! The song is called 'Jasmine Flower' and dates back to the 18th Century. It says "Fragrant flowers filled theair/ Beautiful blossoms everywhere /Choosea blossom white and pure /Give to the one that you adore."
I'm interested to find out if the girls, who received certificates as part of the Gaisce President's awards for learning the language, feel that knowing some Chinese could be a major asset down the line.
Local women Catherine Ní Dhubháin, Siobhán Ní Mhaoildhia from Tipperary, and Cork's Gráinne Ní Shearta believe it could be the language of the future.
"It's unique and it's growing," they say, adding, "It really should be brought into the main curriculum. I mean, they're (the Chinese) taking over the world. The jobs, technology and IT are in China.
"For the purposes of trade, it could be really useful to speak some Chinese but continue to live in Ireland."
I ask Joan if issues such as human rights in China are discussed with the students. "We dipped into it a bit … things like the one-child policy and abortion. They have loads of questions; these girls are so curious."
I step back into the West Kerry night with 'Jasmine Flower' still ringing in my ears and a phrase which will shock the owners of my local Chinese takeaway — "wo bú shì Zho-ngguórén" — it translates as "I am not Chinese" … they would never have guessed!
www.independent.ie