September 7, 2010
A leading think-tank has warned of the dangers of increasing ghettoisation of schools in Ireland.
The ESRI says half of immigrant primary pupils are in schools with large numbers of children from overseas – where they make up more than 20pc of the student population.
In comparison, 40pc of the country's 3,300 primary schools have no immigrants at all.
Immigrants are more likely to attend designated disadvantaged schools. The differences between disadvantaged and non-disadvantaged schools can be quite stark — they imply an increasing ghettoisation of those schools designated as disadvantaged.
Immigrants are under-represented in Gaelscoileanna, mainly because of the reluctance of non-English speaking families to learn an additional new language. Higher proportions are found in urban and larger schools and in designated disadvantaged schools.
The study, entitled 'Immigration and School Composition in Ireland' was written by ESRI researchers Delma Byrne, Frances McGinnity, Emer Smyth and Merike Darmody and published in 'Irish Educational Studies'.
They carried out a survey of 735 primary and 448 second-level schools. The study shows there is greater diversity of nationalities in schools here than in other European countries. Around 10pc of primary pupils — 45,700 — are immigrant, while there are 18,000 in post-primary, or 6pc. About 70pc of immigrant students are non-English speaking.
Preference
Nine out of 10 second-level schools have immigrant pupils, but many have small percentages of between 2pc and 9pc.
The ESRI says that enrolment criteria in Irish schools tend to favour settled communities, particularly where parents are required to sign up well in advance and preference is given to the siblings of those already in the school.
Much migration is relatively recent and many immigrants are very mobile. As a result, children will end up in schools that are under-subscribed. Irish parents with 'insider' knowledge of the educational system are more likely to successfully negotiate access to their preferred school. In contrast, immigrant parents can be 'outsiders' in terms of knowing how the system operates.
The Irish National Teachers' Organisation (INTO) said that immigrant children were losing vital teaching support because of cuts in the number of English language teachers.
The union said that last year the Government cut nearly 500 of these teaching jobs in primary schools and predicted that a similar number could be cut this year. It said this was because of a hardline approach by the Department of Education and Skills, which had limited English language teaching to two years.
INTO general secretary Sheila Nunan said: "Two years is only enough for children to develop surface understanding of a language.
"To get to a standard where newcomer children can learn subjects like science and geography through English takes a further five to seven years."
John Walshe Education Editor
Irish Independent
September 3, 2010
September 3, 2010
September 3, 2010
September 3, 2010
THE number of pupils attending all-Irish primary schools in south Dublin has doubled since 2001.
But this increase has not been matched by the creation of additional places at second level, it was claimed yesterday.
"There is massive unmet demand for Irish language second-level education in South Dublin," said Lugh O Braonain, spokesperson for the campaign to set up a new school, Bunchoiste Gaelcholaiste Dheisceart Atha Cliath.
He said a suitable building had been identified for the proposed Gaelcholaiste. The total cost of any refurbishment necessary to equip the Gaelcholaiste to the highest standard had been put at under €3m. An indication of the growing demand was shown at Colaiste Eoin in Stillorgan where parents put their children's names down yesterday for entry in two years' time.
Fiona Ellis
Irish Independent
September 2, 2010
September 2, 2010
Gaelscoil Ráth Tó, the unofficial Irish-language primary school for Ratoath, opened its doors on Monday, without State recognition or funding from the Government. Ten new pupils started on Monday, with spaces still available for any prospective attendees.
Opening day comes two years after efforts first began to establish such a school in Ratoath, and a nationwide campaign began this spring by a number of Irish-language organisations to pressurise the Department of Education to recognise the school officially.
Establishing committee chairperson Anita Sheppard said: "The school will be funded purely by voluntary donations by Irish-language organisations both in Ireland and abroad, from various community supporters and from fundraising conducted by the school's authorities and parents."
She said the ultimate aim is to get State recognition as soon as possible and efforts continue to that end in the form of continuous lobbying of political and civil service representatives and also efforts to draw as much media attention to our cause as possible, locally, nationally and even internationally."
"The Department of Education announced in late 2009 that a new school would be needed in Ratoath, based on demographic projections and those involved in lobbying for the Gaelscoil were confident that they would be recognised as the new school for Ratoath.
However, the Department changed this analysis in February 2010 and announced that no new school would be established in Ratoath in 2010, despite their earlier claims, something which was a deep disappointment to all involved in the campaign, especially to those wishing to send their child to the Gaelscoil in 2010."
Gaelscoileanna are the fastest growing sector in Irish education today; however, no new gaelscoileanna have been given official recognition since 2008 and many involved in Irish-language education and promotion felt that the growth of Irish-language education was being hindered by the official authorities and that a stand had to be taken on the issue of the recognition of Gaelscoil Ráth Tó, not just as a local issue, but as a national one about official facilitating of Irish-language education.
Meath Chronicle – John Donohoe
01 Meán Fómhair 2010
September 1, 2010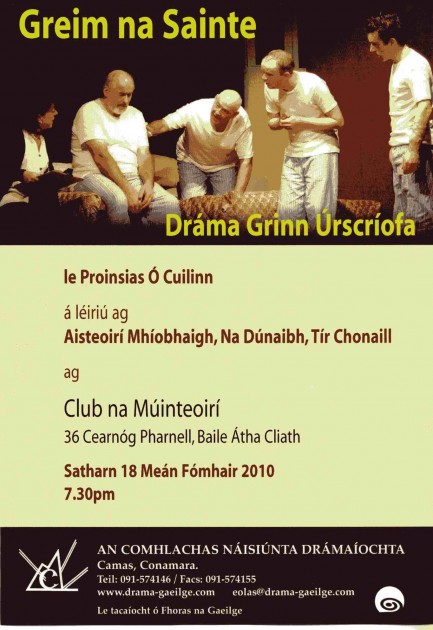 September 1, 2010
A decision by Minister for Education Mary Coughlan not to add a new Irish language subject to the Leaving Cert curriculum will lead to "cultural impoverishment", a leading educationalist has warned.
A campaign to introduce the subject was launched by Áine Ní Ghallchóir of NUI Maynooth after it emerged that a revised Leaving syllabus being introduced this September included a reduced volume of literature for higher level-students. Instead, the new syllabus has a greater focus on spoken and aural examinations with 40 per cent of the marks to be allotted to the oral examination, and 10 per cent for the aural examination.
The syllabus no longer contains an entire novel and students are only required to read seven chapters of Maidhc Dainín's A Thig Ná Tit Orm and specified excerpts from Tóraíocht Diarmuid agus Gráinne . The history of the Irish language has also been removed as an element of the course.
Meitheal na Gaeilge ATAL, comprising representatives from Gaelscoileanna Teoranta, Eagraíocht na Scoileanna Gaeltachta and An Chomhairle um Oideachas Gaeltachta agus Gaelscolaíochta, was formed to lobby the department for the introduction of a new literature-oriented subject.
Lobbyists say the revised syllabus does not recognise the existence of native Irish speakers, gaelscoileanna, or students of higher proficiency who may wish to attain a high standard of education in the Irish language at second level.
Citing duplication of resources and the "possible inequity" for students without a high proficiency in Irish "in terms of CAO access", the department said Ms Coughlan "is not convinced" of the merits of introducing a new Irish subject.
Ms Ní Ghallchóir, who heads NUI Maynooth's Language Centre, said it was introduced with "scant regard" for good practice and would lead to "lower levels of communicative competence and cultural impoverishment".
The syllabus will continue, the department said, but the Tánaiste has directed the National Council of Curriculum and Assessment to review its implementation, as is normally the practice.
The Irish Times – Éanna Ó Caollaí
01 Meán Fómhair 2010