August 25, 2016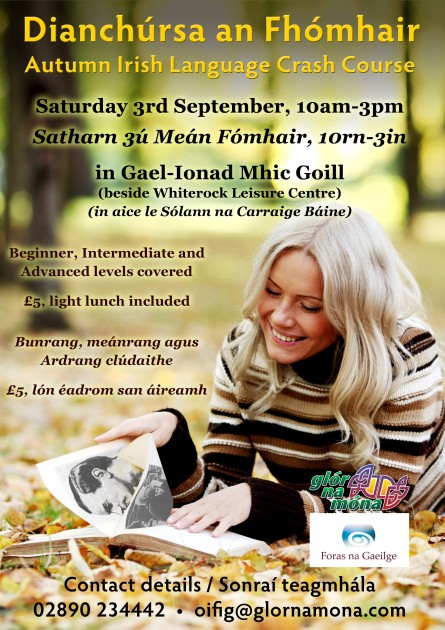 August 25, 2016
August 23, 2016
August 23, 2016
August 23, 2016
August 22, 2016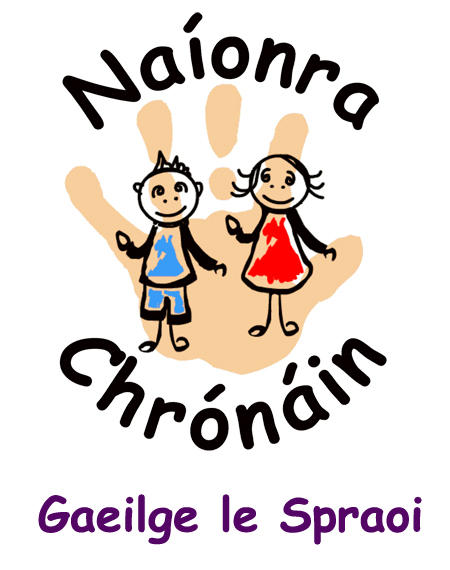 Applications sought for the position of an Early Years Educator in Naíonra Chrónáin
at Áras Chrónáin Irish Cultural Centre, Clondalkin, Dublin 22.
An Naíonra:
Naíonra Chrónáin is an All Irish Naíonra.
Naíonra Chrónáin is a busy naíonra running morning and afternoon sessions. The authorities in Naíonra Chrónáin are committed to providing high quality care and education to the children who attend their service. We have a passion for outdoor play and risky play and a belief in keeping up to date with new research to ensure we are always providing the highest quality care and education we can.
Qualifications:
A minimum of FETAC Level 5 Certification in Childcare / Early childhood Education (Major Award) or equivalent or higher level qualification in early years' education and care, with experience, and with fluency in spoken Irish.
An Ghaeilge:
If you are not fully fluent in spoken and written Irish but have Leaving Certificate standard in Irish we can assist you in improving your spoken Irish if necessary.
Key Responsibilities:
To work in our active and fun pre–school environment both indoor and outdoor. To be involved in curriculum planning, observation and report keeping duties. The successful candidate should have a commitment and passion to quality, strong interpersonal and intrapersonal skills and be a good team player while also possessing initiative.
Post:    Full-time position
Salary: Competitive salary depending on qualifications and experience
Application letter and CV to:
An Cathaoirleach, Muintir Chrónáin Teo,
Áras Chrónáin Ionad Cultúir, Bóthar an Úlloird, Cluain Dolcáin, Baile Átha Cliath 22. (eolas@araschronain.ie / 01-4574847)
Closing Date for applications: Thursday 25/08/2016 before 5.00p.m.
August 22, 2016
August 19, 2016
August 19, 2016
Schools with the highest achievers in this year's Leaving Cert results are from Cos Dublin, Cork and Mayo.
While no candidate received nine A1s this year, six students received eight A1s in the exams.
Three of the students are from Dublin schools: Gonzaga College in Sandford Road, Dublin 6; Loreto College St Stephen's Green in Dublin 2 and Coláiste Eoin in Stillorgan Rd, Co Dublin.
Two of the top-performing students attended schools in Co Mayo: Scoil Cnocán Mhichil Naofa in Claremorris and Ballinrobe Community School on Convent Road.
One Cork student from Regina Mundi College, Douglas Road received the same tally.
Niamh Ryan, a Loreto College student, said she was in "shock" at her result of eight A1s.
"I was so nervous I didn't really sleep last night. I'm so relieved and delighted," she said.
"I didn't feel like some subjects went well at the time- some went good, other's medium. I was lucky things went my way.
"I'm feel like I'm floating on a cloud after seeing the results."
The 18-year-old from Castleknock said she planned to study chemical engineering in Cambridge.
Des Fitzgerald, deputy principal from Loreto College, said the school was very proud of all the students.
"They have performed extremely well in their exams. The students and their teachers have worked very hard to get these results. We would like to wish them all the very best for next year," he said.
Student Annie Duffy from Ballinrobe Community School in Co Mayo said she could not sleep in the nights leading up the results of the landmark exam.
"I had put in loads of work but I was very nervous. I wasn't sleeping the last few days," she said.
"I didn't want to go in this morning, I was putting it off I didn't know what I was going to read- I didn't know what my reaction was going to be."
The 18-year-old, who has four younger siblings, said it was a tense moment when she opened the envelope.
"My legs felt like jelly. I got a bit of a shock. . I didn't really believe it at first," she said.
"I'm thrilled, so happy. All the work paid off."
Annie said she hoped to study medicine at National University of Ireland Galway (NUIG).
William Culkeen, principal of Ballinrobe Community School, said Annie achieving eight A1s was "extraordinary".
"Her results are a brilliant achievement. She's been a role model since she came into the school in first year," he said.
"She also involved in sports and athletics, she plays for Mayo ladies football. "Also Annie's the second person ever in the 25 year history of the school to get eight A1s."
Mr Culkeen said there were a number of high results in the school of 630 students.
"Considering we're a community school and we cater for every student at all levels and abilities from the less academic to the very academic, it's an achievement.It's a tribute to the teachers getting the best from students too. "
Fellow Co Mayo student Emma-Louise Ruane, who attended Mount St Michael's Secondary School in Claremorris, also received eight A1 grades.
"I wanted to check the results and make sure they were correct, I had to recount them- it was surreal," she said.
" I was in a state of shock but so happy. It's hard to take in the reality of the whole experience. I feel amazing.
The 18-year-old said she had worked hard in her senior years at school.
"During the exams in every subject there was a moment of panic but I felt I did well. But you never know with the Leaving Cert. It's a relief to get these results."
Emma-Louise said mathematics was her favourite subject and she planned to study Management Science and Information Systems Studies (MSISS) in Trinity College Dublin.
Another of the high achievers was 18-year-old Jessica O'Shea from Douglas in Co Cork.
Jessica, who was a student at Regina Mundi College, said she could barely believe her results of eight A1s.
"It's incredible. It's a weird feeling, hard to take in but I'm so happy," she said.
"My parents are ecstatic. My mum is ringing everyone and crying, my dad is really excited too."
Jessica said her twin brother also achieved high grades and is also delighted with the results.
Jessica has more than enough points to secure her choice of doing primary teaching at Mary Immaculate College in Limerick.
A keen musician, Jessica said that she plays violin and used to play with the National Youth Orchestra, the Cork Youth Orchestra and the Cork School of Music Symphony Orchestra but gave up playing in all three orchestras at the start of sixth year to concentrate on her studies.
Jessica's principal Margaret O'Donovan said it was a "wonderful day" for the students, the school and parents.
"We're very proud of Jessica. She's a dedicated, committed student- what a wonderful achievement," she said.
"On top of her academic achievements she's a great musician and she never fails to contribute to school activities- an all rounder."
The principal, whose school has 540 students, said she was very proud of all the students and what they had achieved.
Andrew Cleary, a student from Gonzaga College, said his day had been a mixture of nerves, shock and happiness.
"I'm ecstatic. Nerves had hit in the last 48 hours. Some subjects had gone really well but with some others I was thinking it was not my best," he said.
"I was shocked when I saw them. I'm really delighted with my results today."
The 18-year-old from Carrickmines said he wanted to study theoretical physics at Trinity College Dublin.
More than 55,000 Leaving Cert students get their exam results today with no major fluctuations in grades across most subjects.
Those who applied for college will not know whether they have secured their first choice until next Monday when offers through the Central Applications Office (CAO) are made.
August 19, 2016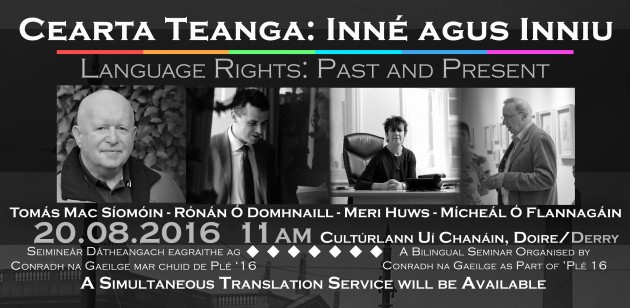 Conradh na Gaeilge is commemorating the Easter Rising is a very special way this year with Plé 16, a series of seminars and debates examining the role of the language revival movement and of the Irish language in the lives of the leaders of the Rising, as well as in modern life. On the 20th of August 2016, Plé 16 will come to Derry for a special day conference in Cultúrlann Uí Chanáinn to explore questions of language rights, both past and present.
The impact on minority languages as a result of the recent referendum on the United Kingdom's EU membership is certain to be part of the discussion on the day, and it is for this reason that Conradh na Gaeilge has invited experts with a specialist knowledge of current conditions in the various jurisdictions in these islands to speak in Derry.
The conference will begin at 11.00am with a special lecture by the writer and philosopher Tomás Mac Síomóin, which will focus on the role of the Irish language revival in the decolonisation process. Tomás currently lives in Catalonia, which gives him a unique perspective on cultural, political, and social issues. Mac Síomóin has also written frequently on the question of the Irish language, especially as regards the close connections between the Irish-language movement and the Easter Rising.
In the second half of the conference, Meri Huws, the Welsh Language Commissioner; Rónán Ó Domhnaill, the Irish Language Commissioner; Diarmaid Ua Bruadair, Principal of Gaelcholáiste Doire; and the Belfast-based solicitor Mícheál Ó Flannagáin will discuss the current state of minority language rights north and south, in the United Kingdom, and in the European Union. Cóilín Ó Cearbhaill, the President of Conradh na Gaeilge, will chair the seminar, which will be open to the public free of charge. A simultaneous translation service will also be available. More information on the event can be found on Conradh na Gaeilge's social media channels, their website www.cnag.ie, or by emailing them at 1916@cnag.ie.
Time: Saturday 20th August, 11.00am
Place: Cultúrlann Uí Chanáin, 37 Great James Street, Derry BT48 7DF
Theme: Language Rights, Yesterday and Today
Speakers: Meri Huws, Rónán Ó Domhnaill, Tomás Mac Síomóin, Mícheál Ó Flannagáin, Diarmaid Ua Bruadair
Free admission. Simultaneous translation service available.
Further Information: 1916@cnag.ie | 0035314757401