September 20, 2016
September 20, 2016
Education Minister, Peter Weir, has approved a Development Proposal for the establishment of a statutory Irish-medium nursery unit at Gaelscoil Éanna, Glengormley.
The proposal, as published, was to provide 26 full-time places. However, in line with the Department's moratorium on any new or additional full-time pre-school provision, the proposal has been modified to provide 26 part-time places.
Commenting on his decision the Minister said:
"Gaelscoil Éanna is an established and sustainable Irish-medium primary school in Glengormley. Numbers in the existing non-statutory pre-school suggest that the proposed level of provision would also be sustainable. Taking account of all the information provided, I have concluded that the evidence supports the establishment of a statutory part-time Irish-medium nursery unit at Gaelscoil Éanna."
In conclusion the Minister said:
"Whilst the Department is committed to providing a pre-school place for each child in their immediate pre-school year, research has shown that there is no discernible benefit to children of a longer daily pre-school session. In this instance I have therefore amended the proposal and have given approval for the establishment of a 26 place part-time unit."
www.education-ni.gov.uk
September 20, 2016
TWO years from now, the pupils of Gaelscoil na gCrann will have moved into a brand new £2.3 million school.
The design is complete, funding allocated and the planning application is ready to be submitted next week.
With a swift and positive decision, the construction team will be on location in January 2017 with an estimated 60 week build time ahead of the opening in September 2018.
While tenders for the main contractor will officially open on October 17, the Killyclogher-based Irish
medium school has already received 14 expressions of interest for the contract.
The plans to develop a new school were revealed at a public engagement event held at Dun Uladh last Thursday.
They include a single-storey seven classroom primary school and single unit nursery on a 2.2 hectare greenfield site nearby to replace the existing Gaelscoil na gCrann and Naiscoil na gCrann.
Currently the award-winning school operates out of mobile classrooms adjacent to the Dun Uladh Culture and Heritage Centre.
The proposed new school site is located south-east to the junction of Farmhill Road and Drumnakilly Road approximately 30 metres south of the existing school grounds.
Board of Governors chairperson Julie Gallagher highlighted that they are the "fastest growing school in the Omagh area".
With another intake of 25 pupils into P1 and an oversubscribed Naiscoil, they will have enrolment numbers of up to 175 in the new school building.
Julie is looking forward to a bright future in state-of-the-art new surroundings that should allow them to enhance the academic and cultural provisions for the pupils.
This includes having its own kitchen and canteen.
The design also includes separate junior and senior play areas and an innovative traffic management programme for pupils to be dropped off and collected.
Julie, who is also the 'senior responsible owner' for the construction project said, "The school has been open for ten very successful and fruitful years now, and these plans ensure a vibrant future.
"The staff and pupils have flourished and excelled in the existing surroundings, but this new building will provide the facilities their commitment and effort over the years so richly deserve.
"The next step for our management committee would then be to provide a secondary school option in the Omagh area."
Gaelscoil principal Deirdre Uí Cheallaigh spoke of the "great buzz and excitement among the entire school community" about the plans for the future as they also celebrate their 10th anniversary year.
Long-standing Board of Governors member and Gaelscoil trustee Brian McKenna is delighted these plans are now coming to fruition.
He said, "We have been talking about this new school building for many years now.
"To now be at this stage when it is becoming a reality is a fitting testament to all the staff, pupils and parents who have shown such faith, support and dedication over the past ten years.
www.ulsterherald.com
September 20, 2016
September 16, 2016
September 16, 2016
September 16, 2016
September 16, 2016
September 16, 2016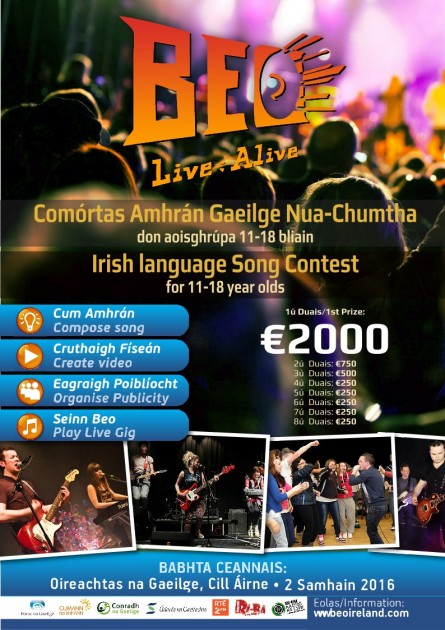 September 15, 2016