Feabhra 20, 2017
Students and staff of Gaelscoil de hÍde in Fermoy have closed the doors of their old building and entered their new school today.
The new school was sanctioned almost six years ago, when the Department of Education accepted that the school was not suitable for the number of children attending.
The Gaelscoil de hÍde New School Action Group said: "Some storage rooms and play areas had to be converted into classrooms. Children were not allowed run in the playground for fear of injury, toilet facilities were totally inadequate and our 410 children were cramped into a school built to cater for roughly half that amount.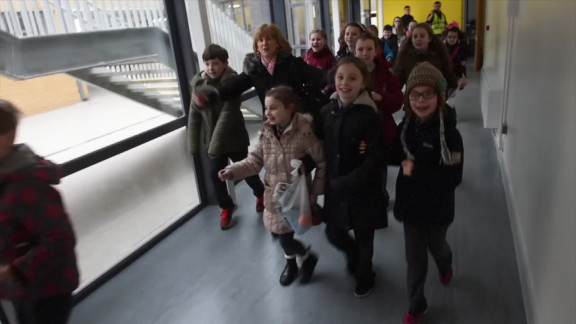 Parents of children in the school formed the New School Action Group in June 2014 after "an unwieldy, vague and error-strewn process".
In January 2016 planning permission was granted for the new 24-classroom complex on the Duntahane road in Fermoy.
Students were today accompanied by the local Fermoy Concert Band as they walked from their old school to their new building.
"It's hard to believe that we've come this far. When we started our campaign the new Gaelscoil Project in Fermoy had all but stagnated. There were lots of empty promises and misleading headlines from politicians, and so many unanswered questions," says Vivienne Dempsey, Chairperson of the New School Action Group.
Sean Mac Gearailt, Principal at Gaelscoil de hÍde, couldn't wait to show the children their new school: "We always said that we wouldn't believe the school would be ours until we turned the key in the door. Our hopes had been dashed too many times. Well now we have the keys and we're delighted."
https://www.breakingnews.ie/ireland/new-building-for-gaelscoil-de-hide-in-fermoy-after-long-wait-777655.html
Feabhra 20, 2017
Dunamase College – the new secondary school that will open in Portlaoise in September – will offer students the opportunity to learn through Irish as well as English. And it was the Irish-language element that created most of the questions at last Thursday's information night.
The meeting was told that for the first year that staff recruited in the first year "will have to be fluent in both languages."
Those present were also told that students who enter the school without having attended an Irish-speaking primary school will be able to adapt very quickly.
An Irish-speaking secondary school in Kilkenny was used as an example.
"In Kilkenny, only 40% of the students came into the school from an Irish medium primary school. And they 'caught up' very quickly," said Paul Fields who is the Laois-Offaly Eductation and Training Board (LEOTB) Director of Schools.
"My own son went from an all-English primary school to and Irish secondary school. Within a month or two months he was up to speed.
"A lot of the time in secondary school are picking up new terminology anyway."
It was also suggested that a course be run during the summer to allow the new students bridge the gap and possibly one for parents also "so they can have all the basic phrases".
A school in Kildare was also used as an example where it started with only nine students but offered 18 subjects and some of those students are now "doctors, engineers and one is back as a teacher in the school".
"Teachers will be specialists in their own subjects and fluent in Irish," added Aoife Elster, the school's principal. "For the first year, all staff will have to be fluent in Irish. Plenty of teachers out there. "Part of teacher skill set. Not negotiable."
Joe Cunningham, CEO of the LOETB, added ""I have no doubt we will get the necessary staff and the standard we require."
It was also confirmed that teachers in the new school will be referred to by their first name, such as 'Muinteoir Aoife'.
http://www.laoistoday.ie/2017/02/20/irish-question-new-secondary-school-portlaoise/
Feabhra 16, 2017
Tá 74 scoil lán-Ghaeilge agus Gaeltachta aitheanta anois mar scoileanna DEIS, cruthúnas, dar le Gaeloideachas, go gcuireann na scoileanna sin fáilte roimh chách
Dar leis an eagraíocht Gaeloideachas go gcuireann cinntí na Roinne Oideachais maidir le scoileanna faoi mhíbhuntáiste "deireadh leis an argóint gur scoileanna éilíteacha iad scoileanna lán Ghaeilge".
Thug an eagraíocht le fios go bhfuil 74 scoil lán-Ghaeilge agus Gaeltachta aitheanta anois mar scoileanna DEIS, rud a fhágann go bhfuil tromlach na ndaltaí faoi míbhuntáiste oideachasúil i scoil amháin as gach cúig scoil lán-Ghaeilge.
Is minic é curtha i leith scoileanna lán-Ghaeilge ag colúnaithe nuachtán agus dreamanna eile nach mbaineann na scoileanna sin ach le daoine atá go maith as.
I gcolún nuachtáin a foilsíodh an mhí seo caite, mar shampla, mhaígh an colúnaí de chuid an Sunday Independent, Sarah Carey, go raibh cur chuige 'segregationist' ag Gaelscoileanna.
Dúirt Carey freisin gur mheabhraigh dearcadh tuismitheoirí Gaelscoileanna síochánaithe nach raibh sásta troid in aghaidh na Naitsíoch.
Dar le Yvonne Ní Mhurchú, Uachtarán Gaeloideachas, go mbréagnaíonn an t-eolas faoi scoileanna DEIS na líomhaintí maidir le héilíteachas.
"Tá sé in am go n-aithneodh daoine go bhfuil réimse leathan scoileanna ag feidhmiú trí mheán na Gaeilge. Tá scoileanna againn i gceantracha faoi mhíbhuntáiste i gcathracha, bailte móra agus faoin dtuath i ngach cuid den tír."
Dúirt Uachtarán Gaeloideachas go raibh "an fhianaise soiléir" agus go gcaithfí anois "cothrom na féinne" a thabhairt do scoileanna lán-Ghaeilge sa phlé atá ar siúl faoi láthair maidir leis an reachtaíocht nua atá á beartú i dtaobh polasaí iontrála scoileanna.
Dúirt Yvonne Ní Mhurchú go bhfuil scoileanna lán-Ghaeilge agus Gaeltachta eile ann "atá an-mhí-shásta nach bhfuair siad aitheantas mar scoileanna DEIS, Scoil Rann na Feirste in Dún nan Gall ina measc.
Dúirt Pól Ó Ruiséal, Príomhoide Scoil Rann na Feirste, go raibh "iontas" agus "díomá" air nár tugadh stádas DEIS don scoil. 
"Níl slat tomhais chothrom á húsáid ag an Roinn Oideachais agus iad ag roghnú scoltacha don Scéim. Táthar ag tabhairt droim lámha le scoltacha atá ag teagasc tré mheán na Gaeilge".

Tá "imní" ar Ó Ruiséal, a dúirt sé, nach gcuirfidh tuismitheoirí a bpáistí chuig scoileanna nach bhfuil stádas DEIS acu.
D'fhéadfadh "impleachtaí tromchúiseacha" a bheith ag a leithéid don oideachas lán-Ghaeilge amach anseo, a dúirt Ó Ruiséal.
Dúirt Bláthnaid Ní Ghréacháin, Ardfheidhmeannach Gaeloideachas, go gcuireann scoileanna lán-Ghaeilge agus Gaeltachta "fáilte roimh pháistí agus daoine óga ó gach cineál cúlra teanga, cultúir agus socheacnamaíochta". Bhí sé riachtanach, a dúirt sí, go mbeadh "buntáiste breise an oideachais lán-Ghaeilge" ar fáil do ghasúir atá faoi mhíbhuntáiste oideachasúil.
http://tuairisc.ie/liomhainti-faoi-eiliteachas-gaelscoileanna-breagnaithe-ag-figiuiri/
Feabhra 16, 2017
Tá imní léirithe ag an eagraíocht Gaeloideachas faoi ráiteas a rinne an Roinn Oideachais maidir le soláthar múinteoirí breise do scoileanna Gaeltachta faoin bPolasaí Oideachais Gaeltachta.
Fógraíodh an tseachtain seo nach mbeidh aon mhúinteoir breise á chur ar fáil do scoileanna Gaeltachta faoin bPolasaí don scoilbhliain 2017/18. Gealladh sa Pholasaí go mbeadh 30 múinteoir bunscoile agus 30 múinteoir iarbhunscoile breise ar fáil do scoileanna Gaeltachta ón scoilbhliain 2018/19 ar aghaidh.
Deir Gaeloideachas go bhfuil an baol ann anois nach mbeidh ar chumas na Roinne an plean a leagadh amach maidir le soláthar múinteoirí le Gaeilge a chur i bhfeidhm faoi thús na scoilbhliana i Meán Fómhair 2018.
Níl an clár oiliúna do bhunmhúinteoirí a luaitear sa Pholasaí, an Clár Oiliúna Tosaigh Múinteoirí, curtha amach ar tairiscint go fóill ag an Roinn Oideachais agus níl ach clár amháin a chuireann oiliúint i nGaeilge ar fáil do mhúinteoirí iarbhunscoile, an Mháistreacht Ghairmiúil in Ollscoil na hÉireann, Gaillimh.
Cáileoidh 34 múinteoir iarbhunscoile ón gcúrsa sin don scoilbhliain 2017/18. Deir Gaeloideachas nach leor an méid sin le freastal ar an éileamh atá ann ó scoileanna Gaeltachta.
"Saincheisteanna iad seo i dtaobh chur i bhfeidhm an Pholasaí agus cé go bhfáiltíonn muid roimh an Pholasaí féin, is gá soláthar cuí a dhéanamh le scoileanna a chumasú le tabhairt faoi, chun go mbraithfidh siad úinéireacht ar an bPolasaí agus go mbeidh sé mar thacaíocht seachas mar bhagairt acu.
"Tá Gaeloideachas ag súil go mór le bheith rannpháirteach sa choiste comhairleach chun go mbeidh guth na scoileanna féin le cloisteáil ag gach staid den phróiseas atá romhainn," a dúirt Bláthnaid Ní Ghréacháin, Ardfheidhmeannach Gaeloideachas.
Mí Eanáir, ainmníodh an Dochtúir Treasa Kirk ina ceannaire ar an Aonad nua Gaeltachta sa Roinn Oideachais atá leis an bPolasaí Oideachais Gaeltachta a chur i bhfeidhm. Ainmníodh baill eile an Aonaid an mhí seo caite freisin, an Príomhoifigeach Cúnta, Roisin McCauley agus an tArdoifigeach Feidhmiúacháin, Derek Hollingsworth.
Seoladh an Polasaí Oideachais Gaeltachta ar an gCeathrú Rua i mí Dheireadh Fómhair seo caite. Caithfidh aon bhunscoil atá ag iarraidh aitheantas mar scoil Ghaeltachta feasta staonadh ó theagasc an Bhéarla sa chéad dá bhliain scolaíochta agus polasaí lán-tumoideachais a chur i bhfeidhm.
Go dtí seo b'ionann scoil Ghaeltachta agus aon scoil a bhí lonnaithe i gceantar oifigiúil Gaeltachta, ach ní hamhlaidh a bheidh níos mó agus stádas Gaeltachta ag brath feasta ar chritéir theangeolaíochta seachas ar an tíreolaíocht. Is é a bheidh i scoil Ghaeltachta ach a gcuirfear an polasaí i bhfeidhm "ná scoil a thiomnaíonn do na réimsí curaclaim agus na hábhair churaclaim uile a sholáthar trí mheán na Gaeilge" agus a oibríonn leis an bpobal trí mheán na Gaeilge.
Gealladh go gcuirfear an polasaí i bhfeidhm "de réir a chéile" ó Mheán Fómhair na bliana seo agus €1 milliún a bheidh ar fáil don obair sin an bhliain seo chugainn.
De réir an pholasaí, an chéad pholasaí dá leithéid ó bhunú an Stáit, ní hamháin go mbeidh ar an mbunscoil atá ag iarraidh aitheantas Gaeltachta a bhaint amach an tréimhse lán-tumoideachas a chur i bhfeidhm, ach beidh orthu a chinntiú chomh maith gur i nGaeilge amháin a dhéanfar gnó na scoile ar fad.
Feabhra 15, 2017
Tá sé tugtha le fios ag an Roinn Oideachais do Bhord Oideachais agus Oiliúna na Gaillimhe agus Ros Comáin nach mbeidh aon mhúinteoir breise á cheapadh faoin bpolasaí oideachais Gaeltachta don scoilbhliain seo chugainn.
Níl aon dáta tugtha ag an Roinn ach an oiread faoin uair a bhfuil sé i gceist an chuid seo den pholasaí a chomhlíonadh.
Dúirt baill an Bhoird inné go bhfuil imní orthu faoi cheann de na moltaí is tábhachtaí sa pholasaí a d'fhógair an Roinn ag deireadh na bliana seo caite a bheith á chur ar an méar fhada ag an Roinn cheana féin.
Dúirt stiúrthóir scoileanna an Bhoird Tomás Mac Pháidín le RTÉ Raidió na Gaeltachta go bhfuil sé iarrtha air anois cruinniú a eagrú ar bhonn práinne leis an Roinn Oideachais leis an gceist seo a phlé.
Feabhra 10, 2017
The newest post primary school in Portlaoise, Dunamase College, has announced the appointment of its first principal, Aoife Elster. Ms. Elster will take up her new role in March at the temporary school premises in Railway Street.
Speaking about the appointment, Paul Fields, Director of Schools at Laois Offaly ETB, stated that, "the appointment of the principal is a significant step in establishing the school within the community.
"The fact that the principal will be in place from March onwards will ensure that all of the necessary preparations for the opening of Dunamase College will be in place before the school opens its doors to students in September", he said.
The new principal, Aoife Elster is originally from Dublin but has been living in the Midlands for almost three decades.
Her background is in science and she worked for several years in the oil industry in London before moving to Laois. She has been involved in education for over two decades and has worked in both Irish and English medium schools.
She has extensive experience in the setting up and development of new schools, having been involved with Gael-Choláiste Chill Dara in Naas from its inception in 2004 and most recently she has been the founding principal of Choláiste Ghlór na Mara, a 1000 pupil second level school in Balbriggan, Co. Dublin.
Science and mathematics are a lifelong passion, and this has been reflected in her own learning and teaching.
She has recent postgraduate qualifications in Mathematics and Education from NUIM, in association with the University of Cambridge. She also developed distance learning strategies, teaching physics in two counties simultaneously over the internet.
Her vision for education involves the widespread use of appropriate technologies and modern teaching methods. She is particularly interested in using technology to increase accessibility to additional subjects and learners. She also has a strong interest in culture and music.
She is a keen walker and walks in the Sliabh Blooms most weekends and has walked several parts of the Camino de Santiago in recent years. Aoife is married to Stephen, and has two adult children; Naomi, a cancer researcher and writer, and Ciarán, a musician and teacher, both of whom are working abroad at the moment.
Chief Executive at Laois Offaly ETB, Joe Cunningham expressed his belief that, "the appointment of the new principal is another practical step in establishing Dunamase College as a significant provider of post primary education within Portlaoise".
He took the opportunity to remind parents that an information meeting will take place on Thursday 16th. February @ 7.30, Railway Street, for any interested parents.
http://www.leinsterexpress.ie/news/home/234636/new-principal-appointed-for-dunamase-college.html
Feabhra 8, 2017
The first word I said to my newborn son was "Fáilte", and eight months later, I've spoken to him almost entirely in Irish.
Up to that point, as is the case for many Irish people, my Leaving Certificate oral exam was the longest conversation in Irish I'd ever had, in all it's ten minutes of nervous banality.
When I decided to speak to my first child in Irish, I had no idea the adventure that was about to begin. His mother didn't speak a word, and we live in London, but I hoped our child would have a stronger sense of his Irish identity – and a unique connection with me – if we could communicate through my second language, Irish.
It's been a huge learning curve, but no more than every other aspect of becoming a parent. I've learned to change nappies, while also learning the Irish word for nappy (clúidín). I've realised the most fundamental gaps in my Irish – from what to say when he sneezes (Dia leat) to all the verses of Baidín Fheilimí (though with the names of the Donegal islands sometimes exchanged for East London neighbourhoods).
The reaction from other people have been the biggest surprise, with friends and family using their cúpla focail with our son from time to time. Even his mamaí George has picked up a few words, and can ask him if his bainne is blasta and to say slán with him when I leave for work in the morning. When we're out and about, people don't bat an eyelid, as it's nothing unusual to hear just one of the hundreds of languages in London.
The repetitive nature of speaking to a baby turns out to be perfect way for a learner like me to increase their vobabulary, and it certainly helps prevent the mundane things such as feeding, clothing and bathing getting tedious.
After a few months though, I was feeling a bit isolated as the only person properly speaking Irish to my son. I knew that if he was to speak as well as understand Irish properly, he'd need to hear other people speaking it too, so I started making enquiries to find any Irish speaking playgroups or naoinraí in London. It turned out that there hadn't been one in London for over ten years, but with the support of the London Irish Centre and the wider Irish community, a few of us parents have now started an Irish playgroup for a new generation.
The London Irish Playgroup has since attracted dozens of families from across London and neighbouring counties, with children from newborn up to eight years old. We meet monthly at the London Irish Centre in Camden to sing songs, read stories, and use the bit of Irish we have with our children.
Research suggests this bilingual upbringing has numerous benefits for mental development, not only connecting children to the language of some of their ancestors, but also giving them a headstart in learning other languages so they can connect with the wider world.
In the meantime, it's a great source of fun for my son and I, and a special way I have chosen to communicate my love to him.
For more information, join the London Irish Playgroup on Facebook, or email shanakee@gmail.com.
Feabhra 3, 2017
Fad is atá an t-imscrúdú reachtúil sin ar bun ag an gCoimisinéir, tá sé deimhnithe ag an Aire Oideachais go bhfuil athrú déanta ar pholasaí pátrúnachta na Roinne maidir le ceist na Gaeilge i roghnú scoileanna nua.
Roimhe seo, bunaithe ar chúrsaí daonáirimh amháin a bhíodh próiseas measúnaithe pátrúnachta na Roinne do scoileanna nua, ach dheimhnigh an tAire Oideachais sa Dáil go mbeadh teanga teagaisc na scoile "ina dlúthchuid" feasta den phróiseas.
Idir an dá linn, tá imscrúdú ar bun ag an gCoimisinéir Teanga maidir le gearán faoi dhiúltú na Roinne d'iarratas ar ghaelscoil nua i dtuaisceart Bhaile Átha Cliath, iarratas a raibh os cionn 330 teaghlach luaite leis.
Cuireadh an t-imscrúdú ar bun de thoradh gearán a rinneadh le hOifig an Choimisinéara faoi dhiúltú na Roinne d'iarratas a rinne an Foras Pátrúnachta ar scoil nua lán-Ghaeilge a bhunú i gceantar Dhroim Conrach agus Marino i mBaile Átha Cliath.
Ó cuireadh tús leis an imscrúdú seo, tá athrú déanta ar pholasaí na Roinne, athrú a ndearna an tAire Oideachais cur síos air sa Dáil le déanaí.
"… My Department has moved to incorporate the medium of instruction of a proposed new school as an integral part of the patronage assessment and recommendation process. In this regard, as part of the application process, prospective patrons must submit completed parental preferences and indicate their preference for their child(ren) to be educated through that patron's school model and also their preference with regard to education through the medium of English or Irish. The assessment process includes an analysis of Irish medium provision in the area and the adjacent school planning areas," a dúirt an tAire Oideachais, Richard Bruton.
Dúirt Ard-Rúnaí an Fhorais Pátrúnachta, Caoimhín Ó hEaghra le Tuairisc.ie, áfach, nach aon leigheas é an t-athrú seo ar pholasaí na Gaeilge ar na deacrachtaí a bhaineann le bunú scoileanna lán-Ghaeilge.
"Ní chinnteoidh an t-athrú seo go mbeidh oideachas lán-Ghaeilge ar fáil i gceantar nach bhfuil sé ar fáil ann cheana agus ba chóir polasaí a thabhairt isteach a chinnteoidh go mbeidh oideachas lán-Ghaeilge ar fáil in aon cheantar nach bhfuil sé ar fáil, pé acu oideachas ilchreidmheach, Caitliceach nó eile atá á éileamh sa cheantar sin.
"Is léir, áfach, fiú i gceantair ina bhfuil éileamh fíorláidir ar oideachas lán-Ghaeilge, mar a bhí i dtuaisceart Bhaile Átha Cliath anuraidh, nach bhfuil an córas in ann freastal ar an éileamh. Níl an córas cothrom ná feiliúnach. Is í an chéad teanga náisiúnta atá i gceist," a dúirt Caoimhín Ó hEaghra le Tuairisc.ie.
Feabhra 2, 2017
Dear Sir/Madam,
In her recent opinion article Language a bigger barrier than baptism (Irish Independent, 21 January 2017), Sarah Carey tells readers that she often quotes the example of Finland in addressing "nationalistic Irish language nonsense", which, as far as she is concerned, is "the ultimate barrier in the Irish education system."
Acknowledging many of Finland's enviable achievements in education, she proceeds to use that country's example to attack Irish-medium education in Gaelscoileanna as a "ruthless obstacle to foreigners."
Assured of her understanding of Finnish education, Ms Carey regrets that "alas space prevents me from elucidating".
Ms Carey has previous form in the matter. In Parents, not priests, driving segregation. The Irish Times blames religion for segregating Irish children. What about Gaelscoileanna (sic) (Irish Independent, 1 March 2015) she made much the same claim with "alas, space prevents me from elaborating".
When recently considering the net effect of Gaelscoileanna on Irish society, Ms Carey couldn't "help thinking of the World War II arguments of George Orwell that pacifists were objectively pro-Nazi". Why? "Gaelscoileanna," she argues, "with their almost 100pc native Irish demographic, are objectively segregationist."
Ms Carey was just as big into the whole war theme in her 2015 missive. "If you're going to fight a war over segregation in schools, identifying the real problem is a good start." In her eyes, Irish-medium education is the enemy as aided and abetted by "families in the Gaelscoileanna (who) sail along blissfully free of moral challenge." She thus paints many Irish families less as morally-driven pacifists and more like amoral Vichy-style profiteers I think.
Whenever Nazi comparisons are inappropriate, we may question the validity of arguments proposed.
Ms Carey argues that Finland's educational reforms have succeeded because "everyone did better when there was no choice" because all children in a given locality went to the same school.
Pasi Sahlberg, the renowned Finnish educator, can help Ms Carey with her poor grasp of choice in Finland's education success.
In Finland, the elimination of consumerist choice was targeted at the way education can be packaged as a market-driven product where an increasing number of profit-motivated private operators compete with different 'value propositions' in different customer segments based on differing incomes and social status. (Although not a fan of private schooling as a matter of general principle, Mr Sahlberg differentiates between mission-driven schools charging fees such as those in Ireland and profit-and-greed-driven academies more recently introduced by "competition raises standards" ideologies in other countries.)
Mr Sahlberg puts it this way: "The question is not, however, choice or no choice. It is about whether we have a good school for all children or just for some. In the end we need to work out how we manage parental choice so that it doesn't harm equity."
While Finland has indeed achieved remarkable reforms of its education system in a way that Ireland most clearly hasn't, there is in fact a very significant element of choice in Finnish education that will likely shock Ms Carey. Not only is this matter of choice immensely significant in the context of a modern and open Finnish society, it is of course immediately relevant to debate here about the role of Irish-medium education and the Irish language in Ireland.
For all her readiness to elaborate and elucidate on Finland's education reforms, it seems clear that Ms Carey doesn't know that Finland's education policymakers are strongly committed to the provision of choice in schools' language medium for instruction and learning. Mr Sahlberg again: "It is noteworthy that Finland is a trilingual country, where Finnish, Swedish, and Sami are all official languages."
Finland's constitution and its parliamentary legislation protect the language rights of the country's different language communities and heritages. There is a very substantive offering of choice between Finnish-medium education and Swedish-medium education extending from pre-school all the way to postgraduate studies at doctoral level. Demographics dictate that the opportunity to learn through the medium of Swedish is not fully nationwide but Folktinget (a lobby group for the rights of Swedish-speaking Finns) suggest that up to 99pc of students who want to learn through Swedish can do so within the state-school system. Resources are also committed to Sami-language education provision in the far north of the country.
Finland's education policymakers and world-renowned experts are not exhorting citizens to "look at who's doing the excluding" or how Swedish-speaking Finns are "objectively segregationist." Finland does respect and tolerance much better than Ms Carey.
Finland is not only a world leader in the quality of state-school education, it is also recognised as a leader in language education and plurilingualism. Monta rautaa tulessa (many irons in the fire) sums up how Finns regard, value and take pride in their language skills.
Not all is perfect but there is much to learn from Finland if we pay attention to its real lessons instead of Ms Carey's alternative facts.
Some facts will be clear. Ms Carey will not be able to "elucidate" how Finnish-speaking, Swedish-speaking or Sami-speaking Finns regard their language heritage as nationalistic nonsense. Nor will she be able to "elaborate" on how Finns regard choice of language medium for education as a ruthless obstacle to foreigners wishing to integrate into Finnish society.
There is concern in Finland about uneven concentration of immigrant learners across the education system. Sahlberg once more: "For example, in the city of Espoo, there are schools with more than 40% immigrant student populations, while some schools have practically no immigrants." Immigrants unsurprisingly tend to choose the Finnish-speaking schools of the majority demographic rather than Swedish-speaking ones. Sahlberg nevertheless believes that "Finland has been able to enhance equity in education while schools and classroom have become more diverse".
Interestingly, Sahlberg notes research showing that immigrant students in Finland performed significantly better in PISA tests than their peers in other countries. Based on the same studies, he also believes there is a threshold of about 20% "in the proportion of immigrant students per class after which the learning achievement of all students in that class begins to decline".
Alas, space prevents further discussion of Finland's and Ireland's shared characteristics and different experiences. However, I would like to add that the success of Gaelscoileanna and the Irish-medium education movement clearly mirrors aspects of what has worked so successfully in Finland. With special regard to the development of language skills in both Irish and in foreign languages, Finland offers important lessons for policymakers and other stakeholders in Irish education.
Equally, the success of Gaelscoileanna and the Irish-medium education movement also offer key lessons for policymakers and stakeholders interested in the development of language skills for living and prospering in a global world. Níl aon tinteán mar do thinteán féin.
In summing up, I will paraphrase Ms Carey from 2015: Since her analysis is flawed, so is her suggested solution. Her real problem is her obsession with Irish parents who choose to enrich their children's lives with an education in the language of their national heritage. It is she who would have heart failure if she were presented with a system that was even more like Finland's.
Mark Reynolds,
Artane
Dublin 5
Eanáir 23, 2017