Feabhra 24, 2016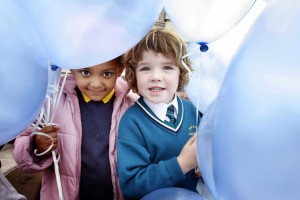 Tá fáilte roimh thuismitheoirí agus éinne gur suim leo cúrsaí oideachais, teanga agus forbairt an pháiste freastal ar an léacht phoiblí seo. Beidh an Dr. Hywel Lewis mar aoichainteoir ar an oíche agus is saineolaí é ar na buntáistí cognaíochta a thugann an t-oideachas dátheangach do pháistí; go ngnóthaíonn páistí i bhfad níos mó ná cumas teanga agus go mbíonn siad ina bhfoghlaimeoirí níos cumasaí agus níos muiníní i dtimpeallacht dhátheangach.
Leanfar an chaint le seisiún ceisteanna agus freagraí do thuismitheoirí le deis a thabhairt dóibh ceisteanna a chur ar phainéal, ar a mbeidh Yvonne Ní Mhurchú, príomhoide Ghaelscoil Longfoirt, maidir le haon ní a bhaineann le do pháiste a chur chuig scoil lán-Ghaeilge. An dtuigfidh siad an múinteoir? An mbeidh na tuismitheoirí in ann cabhrú leis an obair baile? An mbeidh na páistí in ann léamh i mBéarla? Bígí linn le haghaidh comhrá fáilteach agus oscailte le saineolaí aitheanta go hidirnáisiúnta ar an ábhar seo.
Tá tuilleadh eolais ar fáil ach teagmháil a dhéanamh le Clare ar 01 8535193. Tá an t-imeacht seo á eagrú ag Gaelscoileanna Teo. agus Conradh na Gaeilge le feasacht a ardú maidir le hoideachas lán-Ghaeilge.
Feabhra 22, 2016
Tá Nuachtlitir na Naíonraí, Earraigh 2016, ar fáil anois ar líne ag an nasc seo: http://www.gaelscoileanna.ie/files/Na–onra—Earrach-2016.pdf 
Nuachtlitir na Naíonraí, Spring 2016 is now available at the following link: http://www.gaelscoileanna.ie/files/Na–onra—Earrach-2016.pdf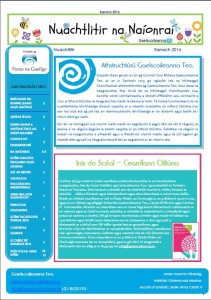 Feabhra 22, 2016
Tá Nuachtlitir an Earraigh 2016, Gaelscoileanna Teo. ar fáil anois ar líne ag an nasc seo: http://www.gaelscoileanna.ie/files/Earrach-20161.pdf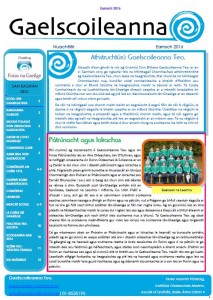 Feabhra 19, 2016
It seems unlikely now that the leaders of the main political parties will engage in combat in Irish on TG4 before we get that chance to cast our ballots. This is in some contrast to the last general election when Micheál Martin, Enda Kenny and Eamon Gilmore had it out together with great verve on the same station.
It may seem a minor inconvenience that we shall not have this leaders' debate in Irish but, while the lack of any debate is partly a lack of discourse, it is also a comment on each party's commitment to one of the two official languages of the country.
It might seem that this season's failure is a big departure from other times. But it is unlikely that other taoisigh or abhair taoisigh would have done any better. It was a big comedown when in the last presidential election only Michael D Higgins was able to hold forth with any fluency against the other candidates in the debate on TG4.
As far as I can make out from my spies and from my memory, both Charlie Haughey and Garret FitzGerald were no more than gabblingly, flabbily fluent; Bertie Ahern hadn't a clue (some would argue in both languages); Albert Reynolds hadn't a country and western note; John Bruton wouldn't have attempted a word even if he knew one; Ruairí Quinn astonishingly thought that Irish was never spoken in Dublin; and who knows anything else about anybody?
Totally lost
The point is many people pick up enough Irish to make do, but beyond that they are totally lost.
Enda Kenny was fortunate to grow up in a time when it was normal that people who attained a certain degree of education also learned Irish. I suspect that if he was much younger he would be more stuttering in the language than he is now.
He was also lucky in training to be a teacher at a time which required that some modicum of knowledge of something or other, or even anything at all, was important. On the other hand he has presided over the destruction of knowledge-based teacher education in favour of tricky-dicky methodological banality which means that no young fella like him will ever learn Irish, or anything else, as he did.
In a similar fashion Micheál Martin was lucky to attend a school in which Irish was a serious subject.
A few words
They both have more than enough Irish to get by and to engage seriously in debate. This is because they got an education where Irish went beyond the usual cúpla focal. They had actually to say something in their youth and childhood beyond saying who they were and telling where it was they lived.
I am presuming that Joan Burton and Gerry Adams could talk a bit about their pastimes, or what they did, or didn't do in their past times. Their Irish is commendable, but it is not good enough to go for the jugular, which is what political debate is about.
Desiring an Ireland for all (Éire do chách – oops, who said this?), one which is inclusive and broad-ranging and catholic and universal and liberal, it would be good that all party leaders spoke good Irish; good enough to engage with anyone who wished to contend with them in the language.
But if this was not possible, it would also help if they supported a public and educational policy in which more than the cúpla focal was necessary, and where thought in the language informed thought in the public sphere.
The recent dumbing-down of the language to the ritual 10 minutes of what is your name, and who is your brother, and what do you eat for breakfast as 40 per cent of the Leaving Cert will shortly be seen as a disaster.
But then we are almost quite exceptional in our steadfast monolingualism. There are few Scandinavian or German or senior Polish politicians who could not discuss the fantasies of fiscal policy, or even the League of Ireland (if they knew anything about it) in English or in some other language if they so chose.
Alan Titley is professor of modern Irish at University College Cork
Feabhra 19, 2016
Fine Gael are regarded by many Irish speakers as having a less-than-stellar record on the language over the past five years, and judging by their election manifesto it is not a reputation they seem unduly concerned about.
In fact, the only real boast their manifesto makes in relation to Irish is that they managed to find an extra €1m for Údarás na Gaeltachta following last November's budget.
To be fair to the party, I found it equally difficult to recall any other achievements they might have mentioned, and I may well have been paying closer attention to government policy on Irish than either of the government parties.
They could have, I suppose, if only by way of some light relief from the jargon and plámás, have added that they made Gaeltacht Minister Joe McHugh learn Irish.
Straight off we learn that Fine Gael is "committed to systematically implementing the 20-Year Strategy for the Irish language" which, sadly, has become manifesto-speak shorthand for "we couldn't really think of anything to say, so we'll give them the old line about the 20-Year Strategy".
There is not a single tangible promise of extra resources or funding. Not a red cent, or a pingin rua even. Would they, for example, manage to spirit another cool million for the Údarás from down the back of the fiscal couch in 2017? We are not told.
If, as we have heard during the election campaign, 'auction politics' is back, well nobody bothered to inform whoever came up with Fine Gael's Irish-language policy.
What we get instead is an insipid cocktail of vague promises and rehashed proposals, most of which seem to have been randomly plucked from the Department of Education's excellent draft policy for the reform of Gaeltacht education, which was published last year by Labour minister Jan O'Sullivan but unfortunately did not make the cut in time for the election.
Ten of Fine Gael's 13 Irish-language proposals deal with education, but, remarkably, there is no mention of Gaelscoileanna. As for that draft policy for Gaeltacht education, Fine Gael seems to view it as no more than a useful source for election manifesto filler. They do not even say whether they would implement the policy if returned to power.
The party's Irish-language policy contains a worthwhile pledge to introduce a scholarship scheme for students from disadvantaged areas who want to attend summer colleges, but mostly it comes across like a particularly dull and incoherent departmental discussion paper. Take, for example, the following: "We will engage with the Department of Arts, Heritage and the Gaeltacht and Údarás na Gaeltachta to clarify the role that education will play in complementing the language planning processes taking place in accordance with the Gaeltacht Act 2012." I have read this line a few times, and I think that what we are essentially dealing with here is a promise that someday somebody will contact somebody else and ask them something along the lines of "what's the story with education in this language-planning process anyway?"
Elsewhere, Fine Gael boldly states that Gaeltacht schools "should be allowed to practise total early immersion through Irish for a period of up to two years". The only problem with this is that the Department of Education has already officially sanctioned total early immersion through Irish. Fine Gael's coalition partners even claim credit for the move in their manifesto, also released this week.
This week, in an interview on TG4, Enda Kenny, answered a question about the implementation of the 20-Year Strategy by talking about attracting cyber-security companies to the Gaeltacht. His party's Irish-language policy is equally confused, a cut-and-paste job devoid of any coherent arguments or concrete proposals.
The Labour Party manifesto's first commitment in regard to Irish is the jaw-dropping guarantee that they will "Protect Irish language and culture, and our place in the world". And all Conradh na Gaeilge were asking for was a senior minister, an Oireachtas committee, and a bit of extra funding for Údarás na Gaeltachta and Foras na Gaeilge! Like their coalition partners Labour blithely ignores those three pre-election demands and fails to commit any extra funding apart from a nebulous promise to "allocate more resources to implement the strategy" and a slightly baffling undertaking "to provide funding to Irish-speaking Gaeltacht areas to encourage those without Irish to use the language". Surely if those without Irish could be encouraged to use it, then Joan Burton could have been cajoled into accepting that invite to debate on TG4?
Labour would also "continue the growth of Irish-medium education" and "consider the development of second level education through Irish".
Note that "consider", the elastic friend of overstretched manifesto writers everywhere. And that is about it from Labour, save one last gallant pitch for our award for General Election 2016's most ludicrous Irish-language promise: "In terms of public services, we will work to ensure that all citizens can access all government services in Irish." Presumably they will also be working to ensure the establishment of global peace and an end to world hunger.
Or at least considering it.
Go n-éirí an bóthar leo ar fad.
Feabhra 17, 2016
A £15.5 million building project has begun at Belfast's only Irish language secondary school.
Education minister John O'Dowd cut the first sod on a new extension at Coláiste Feirste in west Belfast.
The project will provide new teaching facilities as well as a sports hall, changing rooms, a gym, synthetic training area, 3G Gaelic Pitch and five courts.
Seán Mistéil, chairman of Coláiste Feirste said the building work was a milestone in the development of the school and Irish-medium education in the north.
"This is not just an a major capital investment, it is an investment in the potential of the 600 pupils currently attending the school and the thousands who will continue their educational journey in Coláiste Feirste in the coming years," he said.
"The physical regeneration of Coláiste Feirste will match the excellent progress made by the school in recent years in terms of academic, sporting and cultural achievements. We will have an environment that is fit for purpose and which matches the ambition of the school and wider community.
"And it is also another building block in the Gaeltacht Quarter which is set to make this area an exemplar across the island and across Europe in terms of community-led and community-centered regeneration."
Feabhra 17, 2016
STUDENTS from the West Cork Gaelscoileanna of Bantry and Skibbereen starred at the annual Coirm Gael Linn festival held in Fermoy recently.
They were among almost 350 exuberant young performers from primary schools in Counties Cork and Tipperary who treaded the boards of the Palace Theatre in Fermoy Youth Centre during the day. Pupils from first to sixth classes staged variety shows that incorporated music, singing, dancing, story-telling and acting – all 'as Gaeilge' – with a theme of their own choice.
The auditorium was filled to capacity and the appreciative audience, comprising schoolchildren, parents and teachers, were treated to a great display of musical and dramatic talent. They were also entertained before and after each show by the popular entertainer, Giggles the clown!
While Coirm Gael Linn is not a competition, each show is seen by a guest reviewer and a written critique is given to the director. At the reviewer's discretion, special merit awards or 'gradaim', are also presented for outstanding performances by individuals or ensembles during the shows. On this occasion, Liam Mac an Mhaoir complimented the teachers for the imaginative, lively, exuberant and atmospheric productions by all the participating schools.
He presented three awards to the stellar cast of Gaelscoil Dhochtúir Uí Shúilleabháin, Skibbereen for their wonderful presentation of 'Aladdin', and the attention to detail throughout. The pupils of Gaelscoil Bheanntraí, Bantry, also did well, bringing home two awards for their marvelous singing and dancing during their school show. Teachers Leanne Ní Shé and Mairéad Uí Chróinín respectively were delighted with their pupils' success.
Coirm Gael Linn has proved a popular event on the school calendar over the years, and a total of nine festivals will be held at various venues nationwide over the coming weeks. Seán Ó Ceallaigh, National Schemes Manager, Gael Linn said, "Our hope is that, by having a positive and fun experience at the Coirm festivals, thousands of primary school pupils will be encouraged to use whatever knowledge they have of the language both inside and outside the classroom with confidence."
Feabhra 16, 2016
Feabhra 16, 2016
Feabhra 16, 2016
Diancheachtanna Gaeilge á lorg i mBaile Átha Cliath 12 do dhalta ag déanamh a teastais shóisearaigh, Meitheamh 2016. Tátar ag súil le ceacht in aghaidh na seachtaine nó ina aghaidh na coicíse.
Is féidir teagmháil a dhéanamh le  Clare ag grimes.dooley@gmail.com  más spéis leat san fholúntas seo.